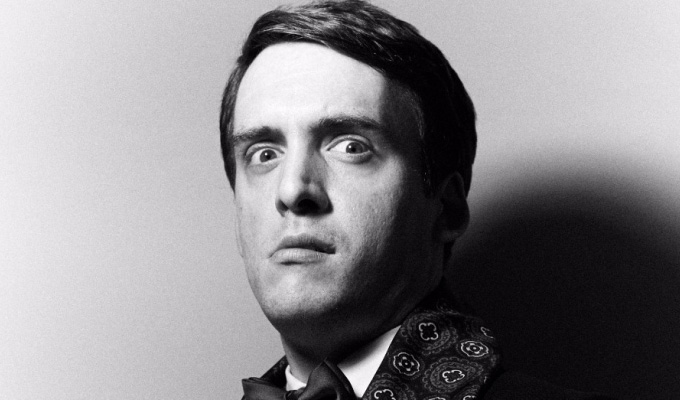 Every comedy impulse I've ever had has come from The Simpsons
Graham Dickson, an improviser with the Austentatious team who is also performing his solo show The Narcissist, picks his Perfect Playlist.
The Simpsons
Sorry, haters. It's the greatest TV show ever made. Full stop. I'm sick of people bemoaning its lulls. The fact is it's had over 30 seasons, and even though it's had some bad patches, it's simply had more moments of TV perfection than any other comedy ever, and I will argue that to my grave.
Even though it's an obvious choice, it would be totally disingenuous to compile a list of comedy inspirations without this being front and centre.
The Simpsons is hardwired into my creative DNA. I think every single comedy impulse I've ever had has come from The Simpsons. But it means more to me even than that – the show literally saved my life, in that it was the only thing that kept me and my brothers ripping each other to pieces as kids.
Sometimes, still, we'll have entire conversations in Ralph or Mr Burns quotes. Here's some Mr. Burns.
Stella
Wet Hot American Summer has become a huge crossover hit in the UK thanks to Netflix. And deservedly so, it's stupid and hilarious and I love it.
Stella was where it started. A sketch show then sitcom by Wet Hot creators and stars David Wain, Michael Showalter and Michael Ian Black. They play three buffoons (constantly dressed in business suits without having jobs – constantly) who do pure silliness with full-blooded commitment.
The gag rate is outrageously high and it has a plethora of great celeb cameos from Paul Rudd, to Sam Rockwell and Ed Norton.
Cook County Social Club
I'm contractually obliged to mention improv as it is my entire life. I saw this group Cook County Social Club in Los Angeles last year. I think it was the funniest 30 minutes of improv I've ever seen. These guys are some of the best in the biz.
Here's a show of theirs from a few years ago. Even though it's a terrible club recording, I think you can still see how electric they are. See also: Hebecky Drysbell (Heather Campbell and Becky Drysdale) and a group called F*ck That Sh*t.
Kristen Wiig
She is one of my favourite comic actors because she can do it all. She has masterful acting chops and is at home playing it straight like in the brilliant Bridesmaids, or astounding with some outrageous characters. This is one from the latter category.
I met her once briefly when I worked in a pub and she came in to drink on a quiet Sunday afternoon. She was a dream, and she gave me a very generous tip. She doesn't understand how a pub works, but she's still a great woman.
Kung Fu Hustle
One of my favourite films. This live action martial arts cartoon is deliriously entertaining and devastatingly funny. Stephen Chow – who writes, directs and stars – is a genius. His deadpan in this riotously slapstick scene about two incompetent hustlers is something to behold.
Roy Andersson
I love Roy Andersson SO much. He is a Swedish filmmaker who makes some of the strangest but most hilarious films.
His films – which are largely plotless and largely involve static long shots of painstakingly detailed tableaux – are not to everyone's taste, but I love them. I love anything set in a world that looks like ours, but also feels alien and weird.
His films are full of jaw-dropping surprises and comedic ideas that shouldn't work, but somehow do. Some of his work is very, very dark. This scene I find amazing. A man describes his dream, and then we just see it! It's baffling and delightful.
• Graham Dickson is The Narcissist at Underbelly Cowgate, 20:10
Published: 10 Aug 2017
Recent Perfect Playlist
What do you think?