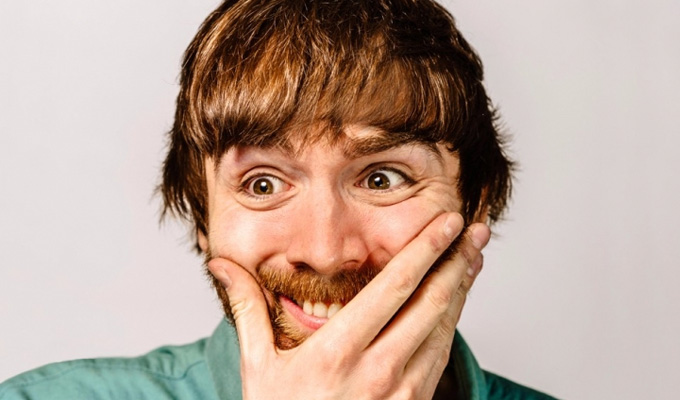 'Every character is an idiot'
Ian Smith chooses his favourite comedy moments.
Hannibal Buress - A Week to Kill
This is a short documentary following Hannibal Buress in the lead up to recording his second special. Whenever I watch it, it makes me want to write comedy.
He has such a distinct comic voice - I love the way he can get huge laughs out of turns of phrase delivered in such a relaxed, conversational way. His laughter is infectious and his work ethic admirable.
There's a brilliant part in the documentary when he meets a man on the street who starts rapping for no discernible reason, and things quickly escalate…
Here's a clip, and the full documentary is here.
Martin McDonagh - In Bruges
Martin McDonagh is a genius. His plays are incredible. I saw the Cripple of Inishmaan and Hangmen in London and then devoured all of his other plays in a few days.
His work is characterised by conversational repetition, brutal violence and strange codes of conduct between the characters. A Behanding in Spokane is my current favourite and well worth a read. There are a few clips online from the original Broadway production, starring Christopher Walken and Sam Rockwell.
I was first introduced to his work by the brilliant In Bruges. It's packed with incredible dialogue and is directed (also by McDonagh) beautifully - it made me fall in love with Bruges. I went on holiday there and my room was upgraded, and I tried not to act delighted when I was taken to it.
Untouchable
This is one of my favourite films - which I'm delighted about, because it's French and makes me look very cultured.
It's based on the true story of a paraplegic aristocrat (Philippe) and the young man (Driss) he hires as his helper. It's very funny, but packs a real emotional punch. I've watched the end scene on YouTube over and over again. It's perfect.
My favourite scene is when Driss is taken to the opera and laughs uncontrollably at a singing tree. But the scene of him shaving Philippe is great too…
Party
Party is a radio sitcom written by the prolific Tom Basden.
It's got an amazing cast. Every character is a bit of an idiot in their own way - and it's so densely packed with brilliant lines, as they all bang heads trying to establish a new political party.
I remember a bit where Tim Key's Duncan is asking if you can eat the red bit of a Babybel making me laugh for ages. If I see a Babybel now, that's the first thing I think of - second is 'Edam' and third is the jingle to an old Babybel advert.
Johnny Vegas - Who's Ready for Ice Cream
My brother bought this on DVD, I think as I was just getting into stand-up. I was blown away by how ridiculous the whole thing is.
Johnny Vegas is being taken up to the Fringe, sponsored by an ice cream salesman (played by an actual ice cream salesman) and forced to live with an unhinged open mic comic.
It also perfectly captures Vegas' early stand-up in an intimate Fringe setting. Until he gets hauled off the stage for not promoting ice cream properly.
Action Bronson - Fuck That's Delicious
This is a food travelogue, presented by Action Bronson (chef turned rapper) with his friends and collaborators - Mayhem, Big Body Bes and The Alchemist. I'm laughing just writing their names.
It's interesting, done with a real love for cooking and very funny. If I need cheering up, watching this group of mates hanging out and eating food makes me instantly happier.
My career peaked in Morocco when I ordered a Fanta on room service at 2am while filming an adaptation of Noah's Ark. So this is a clip from the Moroccan episode…
• Ian Smith: Snowflake, Underbelly Med Quad, 17:15
Published: 5 Aug 2017
What do you think?