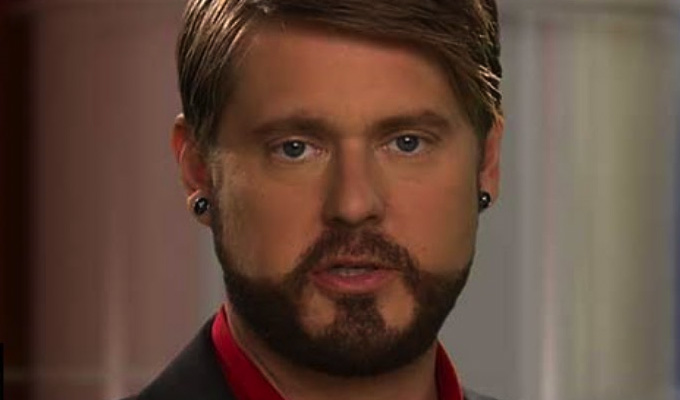 So silly. So stupid. So drunk...
Tim Heidecker – best known for creating Tim and Eric Awesome Show, Great Job! With Eric Wareham – is to make his UK debut next month alongside Neil Hamburger, the washed-up alter-ego of Gregg Turkington, with whom he hosts the spoof film review web series On Cinema At The Cinema. Here he chooses his Perfect Playlist of comedy favourite.
John Daker
This is everything we quest for in two-and-a-half short minutes. It's a nightmare, drawn from vague memories of church and local television.
The piano player's revolting arrogance and conniving key change into That's Amore makes you root for Daker, despite his total lack of stage presence or talent.
The Grateful Dead covering Baba O'Riley
I really dislike the Grateful Dead, and I know that's hack, but it is what it is.
This clip perfectly sums up why they really blow. Wow, do they strip this really powerful song of any heart. No one's gelling here. Their poor keyboard player seems out of the joke, giving it his all while the rest of the boys phone it in.
Can't Jerry even bother to sing Townsend's bridge? And the short shorts! The short SHORTS!
Spalding Gray in True Stories
There are a few ground zero moments for whatever you might call the 'Tim and Eric' sensibility. One can be found in David Byrne's first and only feature film: True Stories.
The whole movie is great but Spalding Gray steals the show, specifically the moment he tells a joke during the film's local talent show and lifts his ams up in a manner so unnatural and strange it caused us to pause, rewind and watch several times. It became a go-to move for us and you'll see it everywhere in our work.
Derek and Clive
The masters. I wish I had the energy to find out where this film existed originally. Was it in cinemas? I don't understand how something so wonderfully simple and funny and pure exists in this very real world.
It's a joy to see these two geniuses be so fucking silly and stupid (and drunk). It can be very powerful to watch people laugh (and I'm not talking about Jimmy Fallon smash eggs onto his forehead).
Often the funniest shit happens backstage, in text messages, in the tour van, after the show in the idle times… This gets closest to capturing that particular kind of useless, wandering glee that happens between clowns.
Look Around You: Machadaynu
The whole of Look Around You (series one and two) is a total and complete masterpiece. Eric and I were set up on a double date with Robert Popper and Peter Serafinowicz way back in 2006 when we were all just getting started and we hit it off immediately.
Robert and Peter shared what a similar attitude and approach to our comedy: make it very 'real' and immersive with great attention to the detail of the format by which the comedy is delivered. Make it incredibly dark but also stupid and silly.
The clip I chose seems to combine all the elements: It's delivered so perfectly dry and serious and is followed by something so silly and memorable I have my three-year-old singing it like a nursery rhyme.
Lost in America
Albert Brooks is one of my favourites, and this is probably my first exposure to him. It's just a perfect comedy, tight, funny, biting and satirical and full of wonderful, small parts, like Gary Marshall as the casino boss.
This has gotta be my favourite scene of all time: The desperation, the negotiation, the turn from friendly and accommodating to: 'That's enough.'
It's a comedy to aspire to and so re-watchable. As a matter of fact, I'm going to stop typing and watch right now…
• Tim Heidecker and Neil Hamburger play the Soho Theatre in London from August 21 to September 2 , then Gorilla in Manchester on September 3.
Published: 20 Jul 2017
What do you think?