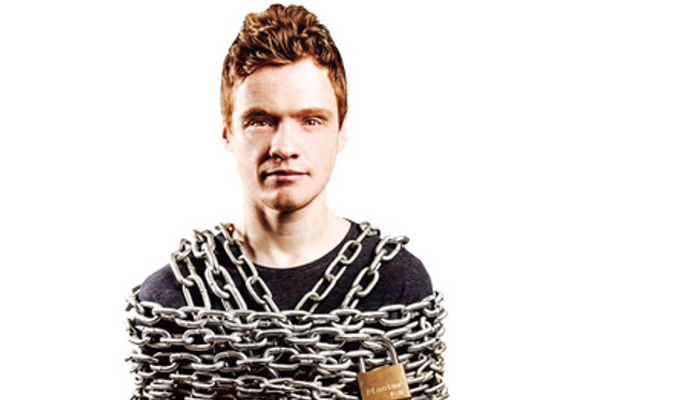 'An unwashed, nasty, greedy, scheming, little man with no manners or dignity'
Leonard Rossiter
Crow-like, slightly hunched, perma-grimacing, gabbling uncontrollably- Leonard Rossiter was astonishingly good at playing a man in torment. Most famously in the paradoxical lonely yet misanthropic role of Rigsby in Rising Damp, but I think his greatest role was as Reginald Perrin.
I don't believe anyone could possibly ever convey mental anguish at the banality of existence better than Leonard Rossiter. A man with funny bones, precision timing, formidable attention to detail who knew his scripts inside out and back to front, a genuine perfectionist, just impeccable.
I don't know who commissioned the Martin Clunes version of Reginald Perrin, but I hope they've been subsequently demoted to floor mopper.
Warren Mitchell
Alf Garnett was a very true to life, wonderful sitcom protagonist- a beleaguered idiot terrified by the changing world around him, powerless to stop it, releasing his pent up anxiety in noxious fist-waving rants, safely confined in his pokey front room. Ignorance, bigotry, but first and foremost howls of existential pain, if he was a dog you'd put him down.
And on a basic level as far as I'm concerned if you've got a little, bald, bespectacled man with a squeaky voice, getting angry about stuff, then comedically you are unfailingly onto a winner.
Warren Mitchell was phenomenal in this role, giving a wonderfully emotive, powerful, vulnerable performance. This was a hilarious, important TV show, it's a shame it was decommissioned by some idiot somewhere with a political agenda.
Wilfrid Brambell
Wilfrid Brambell as Albert Steptoe is perhaps the first comedic performance to have really made an impression on me when I was growing up and probably started my fascination with comedy.
An unwashed, nasty, greedy, scheming, little man with no manners or dignity, malnourished-looking, filthy, aged, but most of all scared. A physical manifestation of poverty, hardship and victimhood, so terrified of being alone, he's happy to ruin his son's life and potential happiness, just so as not to be on his own.
Nastiness and cruelty in a character as ultimately pathetic at Albert Steptoe can be incredibly funny and Brambell was absolutely perfect in this role with his pinched, wrinkled snarling face, his whiny cackle and his boney, sagging frame.
Tony Hancock
I think the comedy of Hancock has a real contemporary relevance. The frustrated underdog, aspirational, wanting to improve his life but scuppered at every turn. I feel like that's very easy to relate to in these times of arrested social mobility.
As with Steptoe and Son of course, you have to acknowledge the genius in the writing of Galton and Simpson, but Hancock was an immense comedian. The character he conveyed had an incredible sadness about him, in his eyes and his hangdog expression, almost as if there was a cloud over him. A man doomed to failure in life who would never escape his lot.
Fatalistic, always trying to achieve something, but fundamentally believing he's not going to. How on earth does someone pull off the trick of being pessimistic and depressive and yet at the same time endearing and hilarious? That's the genius of Hancock. I don't understand it, but I love it.
• Andrew Lawrence is on tour with There Is No Escape. Click here for dates.
Published: 23 Oct 2013
What do you think?