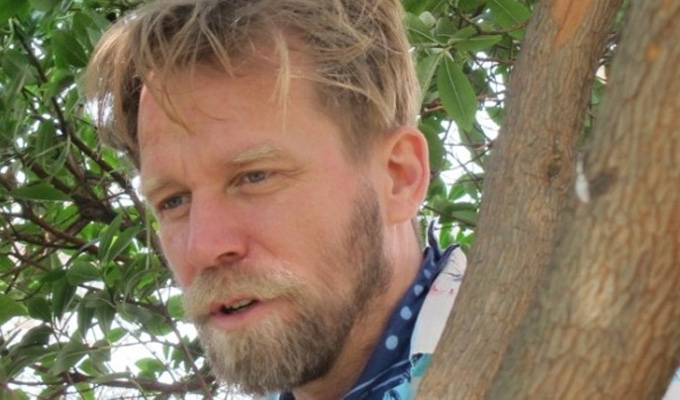 'It changed my life forever and I've ski-doo'd that breathful trail ever since'
Sean Lock
I like to be surprised.  To be led one way and slung back a way I couldn't have expected. Even – or especially – if there was a more obvious and better end or punchline to the joke. His Edinburgh show in 2002 was the funniest hour I've ever seen.  Original and funny all the way through. Elevated stand-up for its own sake without a single bit of preachy bollocks. Sublime.  No clips of this show exist as far as I know but I don't really look around the stupid web... 
[But here's a clip of early Sean Lock...]
And now to the 70's…. 
Bill Murray
Well look at him. In those old 70's (which I got to watch in Canada in the late 80's) Saturday Night Live sketches he's always funny for the first minute then it has no where to go. No end, no punchline. Who needs one? Punchlines are boring. Just pure funny then it tails off awkwardly into nothing.
Plus Bill Murray can remind you of pain and loneliness, just sitting there with his sad, beautiful eyes. And then of hope. Always hope.  Look at any of his good films. There are a good few: Where The Buffalo Roam for example. Dunno, you are all smart, so you know which ones.  
Monty Python And The Holy Grail
The first time I was let off the farm on my own I was 15 or 16 and I went to a huge party on some other farm. Seemed like hundreds of idiots were running around spewing. Off in one room The Holy Grail was playing on a loop with about four nerds sitting quietly watching.
First time I watched it through I was silent with my jaw open. I had never saw nuttin like it. Ever.
The second time I watched it I howled like a wounded wolf. Third time I cried all the way through. It changed my life forever and I've ski-doo'd that breathful trail ever since. I hadn't thought that kind of funny could be allowed to be made and recorded outside the playground and my head. Don't ruin it with a clip.  
The Who
While we're being life-changy.  The Who have always made me feel strong. Funny, truthful, visceral (dunno what it means) powerful, alive, relentlessly forward, pushing towards relief. The best Who tracks make me laugh at the audacity of it. Laugh out loud joy. The posing, self-affirmation, wank fun shit cock bastard, we all have inside us. I remember being literally 'out here in the FIELDS!' thinking, 'Fuck this I'm going to the UK! That'll be a laugh.' And my entire adult life has been laughing here. 
Steve Martin
You can't do that in stand-up. When things get formulaic or someone is heralded as the new thing, Steve Martin reminds us that there has already been room for avant-garde comedy wonder bollocks for a long time.  Jack Ass-ory. Funny Bones.
All of these humans are liberal, thinking, decent type people you get the sense. But never overtly or obviously.  They all seem to push their art for art's sake (wankers). Plus Simon Munnery and Stewart Lee. You know why, dudes. 
• Tony Law tours his new show Nonsense Overdrive from October 2, then runs at London's Soho Theatre from December 3 to January 5. Dates.
Published: 27 Sep 2013
What do you think?