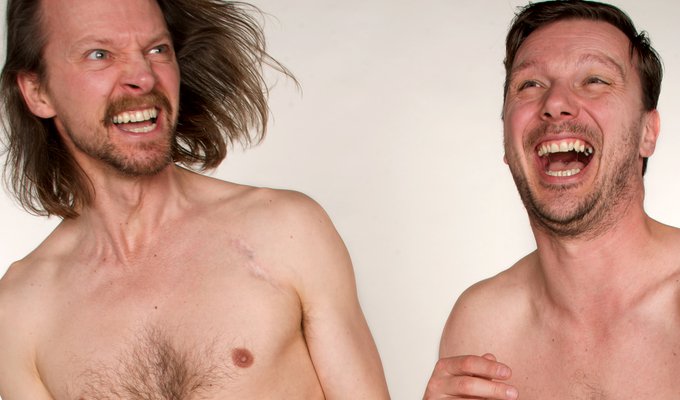 'If doesn't make you laugh you must be dead inside – or Canadian'
Reeves and Mortimer: Lucky carpet
I love everything about this. The version from their telly show is a fabulous example of their total commitment to their own brilliantly silly ideas. If it doesn't make you laugh then I think you must be dead inside – or possibly Canadian.
No offence Canadians, but I remember seeing this totally bomb on a broadcast from the Just For Laughs festival. I was crying with laughter and the audience just looked totally nonplused.
The Mighty Boosh: The wind is my only friend
This is my favourite bit on television. Its really short but so well formed. I know I'm giving it a bit of a big build-up but I just don't think it can be beaten. I love the way the Boosh build and use the theatrical world of their shows.
I think people will look back and see how absolutely astonishingly good their double act is. Their two characters are awesome and the baddies are always brilliant.
I never really liked many of the other regular characters in the series. But Howard and Vince are so beautifully drawn. You just feel the truth in their love and friendship.
Seinfeld: George's wallet
I used to love watching Seinfeld and Larry Sanders, which were broadcast on the same night, unnecessarily late as far as I can remember. There was a long-running debate in my household over which was best. For me it was always Seinfeld.
It's hard to pick a favourite episode because its all so good. The episode where George gets his wallet out often springs to mind these days as, like most freelancers, mine tends to end up looking like George's after a couple of months collecting receipts and general shit - like a halfway house for bits of crap.
Xavier Leroy: Self-Unfinished
You know its just a man with his shirt pulled over his head (to make it look like a skirt) walking on all fours but… Its funny and strange and beautiful and puts you in a lovely position where you are making the illusion happen. Later in the show he turns himself into a plucked chicken ready for the oven. It all happens in front of you and its truly astonishing.
Ghostbusters: Empty your heads don't think of anything
Awesome set up, incredible visual punch line. This literally made me fall off my seat in the cinema when I was a kid. I'm pretty sure it's the hardest I've laughed at one thing. Killer.
If you don't know it, the Ghostbusters must not think of anything because whatever they think of will come to destroy the earth. Before Bill Murray finishes explaining this to the other characters the choice is made. Someone has thought of something… It is a stonkingly good idea. I don't think it can be beat.
Step Brothers: Derek's car song
There are so many funny scenes in this film; the sleepwalking scene; the bunk beds; everything the sister-in-law does; The fight with the kids on the park at the end. It really looks like the actors are having a lot of fun making it. John C Reilly and Will Ferrell are just perfect. Its hard to choose a scene from it that they are not in, but I love the way that this song tells you so much about the brother and his family and is both brilliant and funny. Awesome.
• New Art Club:Feel About Your Body is at Assembly George Square at 18:45
Published: 6 Aug 2013
What do you think?