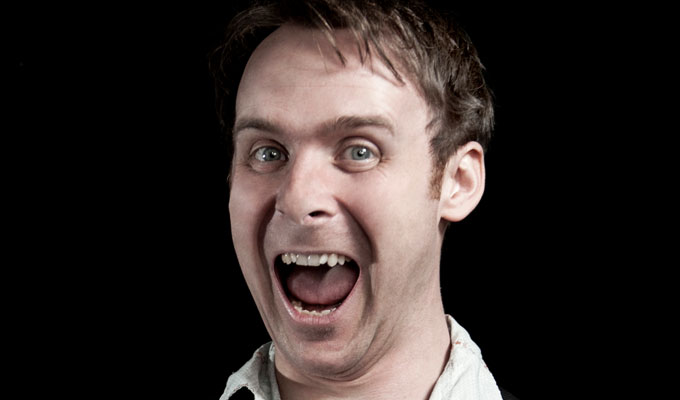 Crappy superheroes and crazy schemes...
Barton Fink
I love a lot of the Coen Brothers films, although oddly I'm not that mad on their out-and-out comedies like Big Lebowski.. But I was really inspired by this dark, quirky comedy.  
Barton Fink is an up and coming playwright in the 1940s who is persuaded to try his hand at Hollywood. He is then basically led through what is really a series of character sketches with amazing character actors, particularly John Goodman who is hilarious and absolutely terrifying.
It's ultimately about just how unimportant art is to the money people and how easily you can be tricked into becoming a cog in the machine. Its a lesson I have in no way learned from in my career. 
These two chumps are who I started doing comedy with and even though we don't really work together any more, I still find them pretty much the funniest people I've ever met (apart from a Scottish man called Jurg but I don't think he ever actually ended up in the business).
Fergus and I were, of course, in a double act with for a good stretch and Dave I've worked with on Zimbani and other things. Fergus is an amazing stand-up, actor and compare and Dave is very good at looking like he's falling over when he's not and doing impressions of the baddie from Live And Let Die.
Frankie Howard in House in Nightmare Park
Frankie Howerd is a god among insects. And this is a bizarre horror comedy film that I saw as a kid that terrified and titilated me beyond all reason. My family still do impressions of him calling his lonesome cry 'lost souls, lost souls...wandering...wandering'. Its a sort of Hammer horror comedy but genuinely scary and funny.
There's a scene where a woman feeds a mouse to a python which I remembered being terrifying and hilarious. The sight of true horror offset by Frankie mugging his arse off is something I've basically been trying to copy ever since. 
I was a huge fan of Lee Evans when we were students. I loved all his physical stuff and I love titting about and dancing on stage so I think he inspired me a lot. I remember the routine about being on an economy flight and the passengers going 'stewardess please help us...' like Quasimodo.
Funny Bones is a weird comedy drama Fergus showed me. Lee Evans does a silent routine to old fashioned sound effects. its amazing. I watched it again for Characthorse, my new show and I think a lot of the feel of it has gone into the show. 
Peter Kay
Comedy types are nowadays are yawn-inducingly relentless about anything observational being crass and old hat, but I remember listening in bed in the dark to a Peter Kay live show and being unable to breathe from laughing. It wasn't that he was just saying things anyone could, it was that he was getting to the emotional core of what was at the heart of families and childhood and being a bit crap and poor in Britain.
Cool kids in comedy use the garlic bread thing as a sort of byword for being obvious nowadays but it was a terrific observation. My favourite was the stuff about turning the big light off. I think that was what really got me. At the same time he was also doing Phoenix Nights and all the Ice Cream Man stuff and he was still only about 14 or something. And he was probably the only person to be genuinely funny on one of those I Love 1980s programs. 
Justice League International
This is a comic book series that ran in the 80s that is one of the funniest things there has ever been and if you don't agree with me you are wrong.
It started as a more serious superhero relaunch of DCs' big team but gradually became this absurd sitcom set up where all the crappiest superheroes were all living together running these bizarre Laurel and Hardy type schemes to make money off their fame. Its superbly written with incredibly sharp and clever dialogue and set-ups.
There is one great geeky parody character which is a sort of Galactus piss-take but instead of swallowing planets he goes around the universe redesigning them in an extreme makeover type way. Yes, it sounds shit. I'm not remotely selling it but give it a go if you in any way like comic books.
They did attempt to make a TV movie of it but that is possibly the worst piece of bollocks ever conceived but worth a watch for a giggle. 
The Office
When I first came to live in London I remember staying with my friend in Hainault while I was doing this really nonsense play for £100 a week. She said her mate had told her about a new show called The Office. So the first one I saw was episode 2 and it changed everything I thought about how comedy could work.
I know Spinal Tap and so on existed before but I think the stuff Ricky did was a whole new level. Just the way he catches the eye of the camera then moves away before the other characters see him doing it is amazing. 
• Colin Hoult: Characthorse is on at Pleasance Courtyard at 18:00
Published: 1 Aug 2013
What do you think?