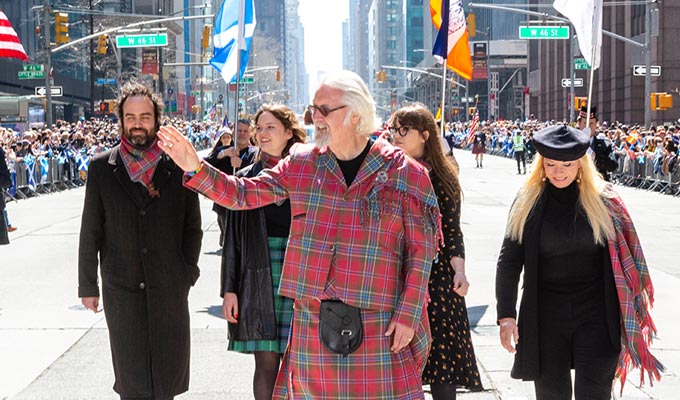 Sir Billy Connolly leads New York Tartan Parade
Sir Billy Connolly led the New York City Tartan Day Parade on the streets of Manhattan yesterday.
Around 30,000 spectators saw more than 3,000 participants march from 44th Street to 55th Street up Sixth Avenue.
The procession was made up of solo pipers, drummers, Highland dancers and Scottish clans and full pipe bands.
Sir Billy's wife Pamela Stephenson also judged the 'parade pups' competition featuring Scotties, Westies, Dandie Dinmonts, Golden Retrievers and Shetland Sheepdogs.
Sir Billy said: "''ve absolutely loved being Grand Marshal of this year's New York City Tartan Day Parade. The crowds were brilliant and hearing the skirl of the pipes echoing along Sixth Avenue made me dance a wee jig in my heart. What a day.'
Graeme Dey, Scotland's Veterans Minister added: 'The annual Tartan Day celebrations are always a spectacular showcase of Scotland. I am delighted that Sir Billy Connolly, who has made such a significant contribution to Scottish culture, is leading this year's parade.'
Published: 7 Apr 2019
Recent Other News
What do you think?