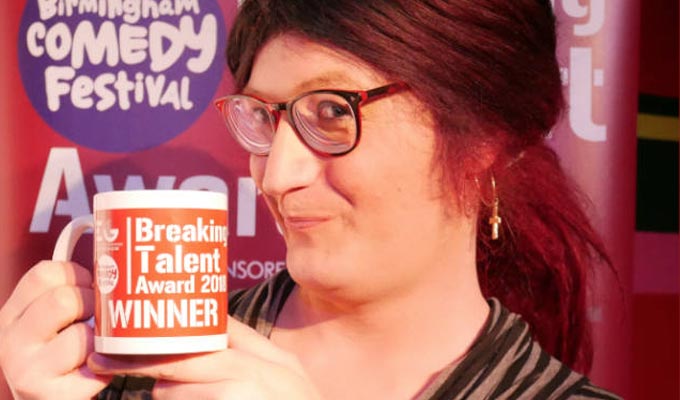 Laura Monmoth scoops 'breaking talent' prize
Laura Monmoth has won the Birmingham Comedy Festival Breaking Talent Award 2018.

The comedian, who was born in the city, uses slide projections and animations for a set in which she tried to 'improve reality'.

After her win, Laura said: 'The first thing that's going to happen is that I'm putting that [title] on the posters!"

Her performance was adapted from a longer show, LGBTQX, which combines retro gaming with gender issues. She performed it as a work in progress at last year's Edinburgh Fringe, and it was named best show at the Morecambe Comedy Festival.
'I've been performing for five years, but really concentrated on my show for the last 18 months,' she said. 'It's weird for me to just do 10 minutes from that, you don't expect bits to work on their own, but everyone was on board with it.'

'"Everything I do is really niche. I was worried about how people would take it for some time, how people would react … but it was an awesome audience. There was even someone from Colorado [ who said they came over especially for the festival! There's been a global aspect!"

Despite her use of technology, Laura's early inspirations came from elsewhere. 'Growing up I was heavily influenced by the storytelling of Jasper Carrott and the energy of Rowan Atkinson,' she says. 'Weirdly, neither of them really influence the direction I took. I enjoy the creative aspects of comedy, which is why I involve animations, music and surrealism in my act.'

Also in the final, which was held at the Glee Club, were Stoke's Phil Carr, joking about the challenges of getting into shape and the temptation of pies; fast-talking Robocop-loving film buff Sham Zaman, from Alum Rock, Birmingham; Stratford-upon-Avon animation editor Adam Beardsmore, who recalled escapades with his brother and leapt into the audience; and Hall Green, born and raised double-act Good Kids (aka Kieran Ahern and Tom Dowling), who sang a questionable Christmas charity song.

A spokesperson for the festival said: 'This was certainly our most stylistically varied line-up yet, which made judging extremely difficult, but Laura's set was tight, confident, and drew the entire audience in, and we look forward to seeing her continue to develop over the coming year.'

Published: 7 Oct 2018
Recent Other News
What do you think?