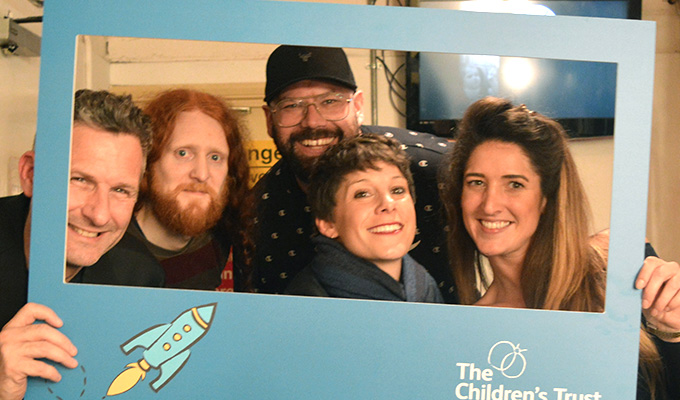 Comics raise £10,000 for the Children's Trust
A charity gig hosted by Adam Hills last night raised £10,000 for The Children's Trust, the UK's leading charity for children with brain injury.
Tom Davis, best known for his role as DI Sleet in BBC Three comedy Murder in Successville, talked about his memories of the charity during his set.
He said: 'The Children's Trust is a charity very close to my heart. My mum used to work there when I was a child and I went there on many occasions. They do great work.'
Angela Barnes, Charlie Baker, Kelly Convey, Suzi Ruffell, Alasdair Beckett-King and Nish Kumar were also on the bill.
The Children's Trust Comedy Night has been an annual event at the London Comedy Store since 2016 and has now raised more than £26,000 for the charity.
Funds raised pay for vital rehabilitation services such as play therapy, music therapy and community services.
Several comedians involved in the event are bow planning to visit The Children's Trust's national specialist centre in Tadworth for a special performance to the children and families supported by the service.
Hills said: 'It was a fantastic night and an absolute pleasure to be involved again. It was a great crowd. I've been to The Children's Trust a few times and seen first-hand the amazing work they do helping children with brain injury.'
The comic first became involved with The Children's Trust when he visited the charity to meet Seb, a nine-year-old boy who had a severe brain injury and leg amputation following a road accident.
The pair chatted about having a prosthetic leg. Adam removed his own prosthetic foot to show Seb what it was like, and help him think more positively in order to focus on rehabilitation.
Dalton Leong, chief executive of The Children's Trust, said: "It was such a great evening. All of the comedians were fantastic, and Adam brilliantly highlighted the importance of our work to the audience.
'We are extremely grateful to all those who gave up their time to help us put on this event and, of course, to everyone who attended to support The Children's Trust.'
Published: 7 Feb 2018
What do you think?