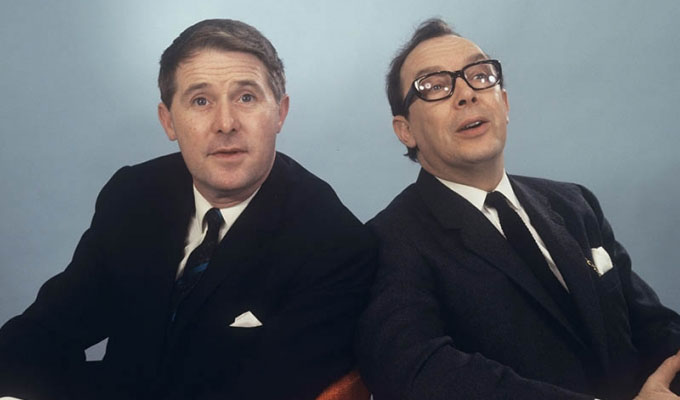 Newly unearthed Morecambe and Wise show to air in full
A long-lost episode of Morecambe and Wise will be screened in full this Christmas after it was found in an attic by Eric Morecambe's son.
The episode, which has not been broadcast since its original airing to an audience of 14million on October 8, 1970, will form part of BBC Two's festive schedules.
Highlights from the episode were aired by ITV this summer, but now the rival broadcaster will air the episode in full.
It comes after Gary Morecambe found an unlabelled film can in the attic of the family home last year - which turned out to be the episode unseen for half a century.
The film has now undergone a full colour recovery from the black and white recording
Written by Eddie Braben, it was the first of the duo's shows to air on BBC One, having been promoted from BBC Two, and featured guests Paul Anka, Patricia Lambert, Kenny Ball and his Jazzmen.
The episode involve 'stage curtains, ventriloquism and a toy dog that shoots nerve gas out of its bottom'.
The duo's long-time collaborator Ann Hamilton plays a nurse in a hospital sketch, looking on as Eric eats all of Ernie's grapes and then uses the empty bag to catch an invisible ball [a favourite visual gag of Eric's]. There's also a sketch in which Eric eavesdrops on a newly wedded couple in the next flat while they make love.
Several episodes of the show remain missing as detailed by lost footage specialists Kaleidoscope.
In 2018, two missing episodes were found in a derelict cinema in Sierra Leone by archivist Philip Morris – who had previously found another version of one of them as a molten lump of film in Nigeria and used state-of-the-art restoration techniques to recover grainy footage.
Published: 20 Nov 2021
What do you think?