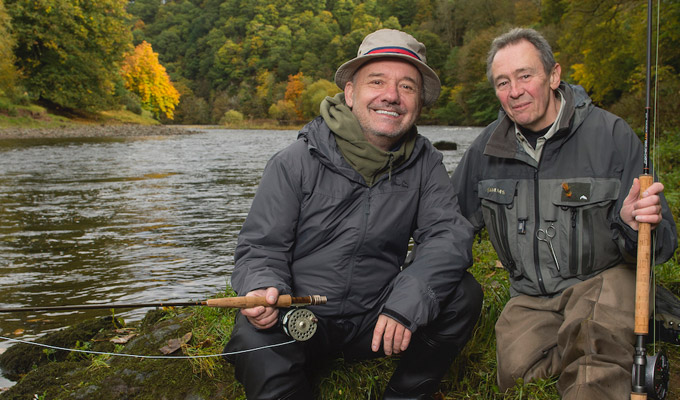 Get hooked on Bob Mortimer and Paul Whitehouse again...
The best of the week's comedy on TV and radio.
Sunday August 23
MORTIMER AND WHITEHOUSE GONE FISHING: Bob and Paul return for this warm and witty show about middle-aged male friendship, disguised as an angling programme. After Bob failed to catch a salmon in the second series – a rite of passage for any angler - the pair return to Scotland for a second bash, this time on the glorious River Tweed. BBC Two, 8pm
HARRY HILL'S WORLD OF TV: The comic offers a ridiculous commentary over clips from TV. Sound familiar? The opening episode of the six-part series looks at the soap opera, from 1954's The Grove Family through to Crossroads, and Albion Market, to Coronation Street and EastEnders. BBC Two, 8.30pm
Tuesday August 25
THE Lenny Henry SHOW: The comic reprises his eponymous sketch show - 36 years after it launched on BBC One, but this time for Radio 4. Familiar characters like pirate radio DJ Delbert Wilkins and old-timer Deakus will feature alongside new creations such as Gavin Stone, a former special services operative turned supply teacher; Raheim X Davies, an irascible history of art professor; and Gideon de Witt, the politician who cannot meaningfully answer a question. Radio 4, 6.30pm.
DAD'S ARMY - THE LOST EPISODES The Freeview premier of these remakes of the original Jimmy Perry and David Croft scripts, replicating episodes that have been wiped from the archives as faithfully as possible. The cast includes Kevin McNally as Captain Mainwaring, Robert Bathurst as Sergeant Wilson, Kevin Eldon as Lance Corporal Jones, David Hayman as Private Frazer, Mathew Horne as Private Walker, Timothy West as Private Godfrey and Tom Rosenthal as Private Pike. The other two episodes are at the same time on Wednesday and Thursday. Yesterday, 9pm
Thursday August 27
KNOWING ME, KNOWING YOU: Radio 4 Extra repeats Alan Partridge's original 1992 chat show, featuring Steve Coogan, Patrick Marber, Rebecca Front, Doon Mackichan and David Schneider. Radio 4 Extra, 11pm
THE DIRECTORS: JAMES L BROOKS: A profile of the TV writer turned director who created the Mary Tyler Moore Show, Taxi and The Tracy Ullman show, hiring cartoonist Matt Groening to create The Simpsons, Big-screen credits include Big, Broadcast News, As Good As It Gets and, of course, The Simpsons Movie. Sky Arts, 9pm
Saturday August 29
THE FAST SHOW - JUST A LOAD OF BLOOMING CATCHPHRASES: Paul Whitehouse, Charlie Higson, Arabella Weir, John Thomson, Mark Williams and Simon Day reprise their classic characters for this look back at 25 years of the enduring sketch show, As well as archive clips, some of the characters tell of what they've been doing over the years, with Swiss Toni sharing seduction secrets, Billy Bleach revealing his tumultuous love life and Rowley Birkin QC confiding about wild and fantastical adventures, all of which happened when he was very, very drunk… Gold, 9pm
OOH YOU ARE AWFUL: This is the 1972 feature-length version of The Dick Emery Show in which the comic plays a conman trying to get the number of a secret Swiss bank account where his accomplice, layed by character actor Ronald Fraser, stashed a fortune. The digits are, of course, tattooed on to the backsides of various attractive girls. At the time of its release The Observer called it 'the best British comedy in many years'... although its plot is certainly very much 'of its time'. Talking Pictures TV, 8pm
Published: 23 Aug 2020
What do you think?