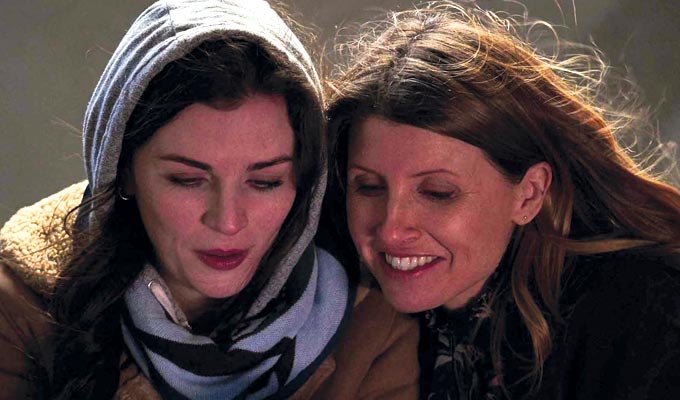 This Way Up gets a second series
Aisling Bea is to make a second series of her acclaimed comedy This Way Up – and has joined the cast of the Home Alone reboot, Chortle can reveal.
Although not officially announced, Bea's co-star and co-producer on the Channel 4 sitcom, Sharon Horgan, let news of the recommission slip during a podcast recording.
Speaking to broadcaster James O'Brien about her Merman production company, Horgan said: 'We made Aisling Bea's show This Way Up, so we're doing another one of those … She's a supreme talent.'
Bea, who wrote and executive produces the dark comedy, plays a young Irish woman in London recovering from a nervous breakdown, with Horgan as her older sister. The show also airs on Hulu in the US.
Co-starring Tobias Menzies, Kadiff Kirwan, Aasif Mandvi, Indira Varma and Dorian Grover, the six initial episodes aired in August and also featured comedians Ricky Grover, Lou Sanders, Jeff Mirza and Tom Bell.
Meanwhile Bea, who is currently gigging in Los Angeles, is preparing to shoot the Home Alone reboot for Disney+ in Toronto, alongside Rob Delaney, Ellie Kemper and Jo Jo Rabbit star Archie Yates.
Further details have yet to emerge about Bea's character 'Carol Mercer'. And the film is said to depart significantly from the 1990 movie's plotline.
Delaney and Kemper are reported to be playing a couple who 'go to war' with ten-year-old Yates' character after he steals a priceless heirloom.
This Way Up began with 700,000 viewers, on a par with the first episodes of Catastrophe and Year of the Rabbit. But that figure was consolidated to almost 1.3million viewers on catch-up and the show was a critical hit.
The Guardian said that 'Aisling Bea's delicate and insightful comedy about a young woman recovering from a mental health crisis ends, with the urge to reach into the screen and hug Bea's alter ego Aine stronger than ever. It has been an engaging watch and is all set up for season two: a show as brave and deft as this surely has to return.'
The Telegraph agreed that 'this is a comedy about mental health that deftly preys on your fears and pricks your sympathies. At the same time there was a gratifyingly high gag rate', while the Independent felt the 'writing is sharp and well observed, probing the fault lines between small talk and real problems.'
The Daily Mail was less ecstatic but still awarded the show four stars, saying that This Way Up 'sometimes spirals so deep into Aine's anguish that it forgets even the most self-absorbed sitcom must have jokes. But when it remembers to be funny, it offers plenty of old-fashioned laughs.'
You can read Chortle's review here.
Horgan was speaking on O'Brien's podcast Full Disclosure to publicise her role in the film Military Wives, released on March 6.
Bea, who recently starred alongside Paul Rudd in the Netflix series Living With Yourself, will next be seen in the Rome-set rom-com Love. Wedding. Repeat, which also features Tim Key, Joel Fry and People Just Do Nothing's Allan Mustafa.
- by Jay Richardson
Published: 24 Feb 2020
Recent News
What do you think?