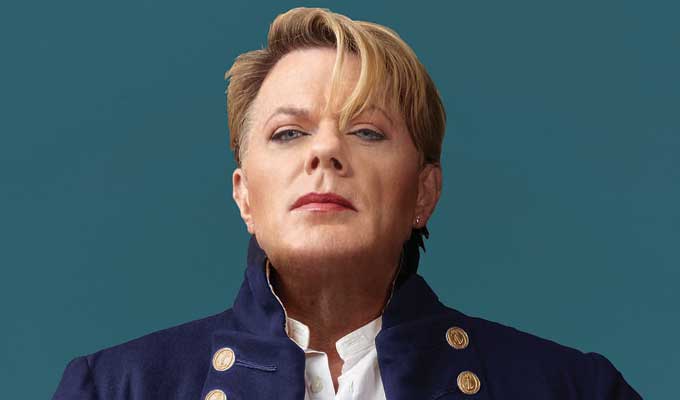 Eddie Izzard's stand-up swansong?
The best of the week's live comedy.
Sunday September 15
BEXHILL-ON-SEA: A hometown gig kicks off Eddie Izzard's new tour, Wunderbar… possibly his last before he devotes himself to politics. His previous tour, Force Majeure, took him to 45 countries and all 50 US states, and he performed it in four languages. When he announced the new show, the comic said: 'It is getting close to the time when I have to go off for a while to have a political life. But before I do that, I want to keep giving audiences around the world the best stand-up comedy shows that I can – especially at a time of Brexit-hate and Trump-hate. My new show is about everything from humans over the last 100,000 years to talking dogs and animal superheroes.' Click here for all the dates.
BRISTOL: Chaotic but funny New Yorker Liza Treyger - as seen in her own half-hour Netflix special - brings her recent Edinburgh Fringe show to the Wardrobe Theatre tonight. She's also at Komedia in Brighton tomorrow, the Glee in Birmingham on Tuesday and the Lowry in Salford on Sunday. Review
Monday September 16
LONDON: One of two 'club nites' Harry Hill has curated at the Moth Club this week, ahead of his Channel 4 series of the same name, features Eddie Kadi, Helen Bauer, Jessica Fostekew and more. The other, on Thursday, includes Colin Hoult, Elf Lyons and Emma Sidi.
LONDON: Passionate, thoughtful and honestly ambiguous, Ahih Shah's incisive and personal rhetoric Dots arrives at Soho Theatre for a two-week run. Review.
LONDON: There's a busy line-up at the Comedy Store as comics raise money for the Lucy Air Ambulance for Children. The bill includes wry musical duo Flo and Joan, the passionate over-thinker Hal Cruttenden, and smart and aloof Rhys James among many others.
NEWCASTLE: Meanwhile at the Stand, some top-drawer club comics are raising money for Comedy Support Act, the charity which helps stand-ups in dire straits. It features Matt Reed, Mick Ferry and Tez Ilyas and more.
Tuesday September 17
CANTERBURY Ed Byrne kicks off his latest tour of precision-engineered observational comedy at the Gulbenkian Theatre. In If I'm Honest… he takes a long hard look at himself in an attempt to discover if he has any traits that are worth passing on to his children. Dates.
Wednesday September 18
BIRMINGHAM: Russell Howard's latest stand-up tour, Respite, comes to UK arenas, following some smaller gigs both sides of the border in Ireland. It's the start of a worldwide venture, taking in more than a dozen other countries. Dates here.
DURHAM Titan of the bit-part, the easily bamboozled theatrical veteran Count Arthur Strong promise to tackle the big mysteries of the universe as he hits the road with his new show, Is There Anybody Out There?, kicking off at the Gala Theatre. Dates.
LONDON: The Objectively Funny Festival at the Albany in Great Portland Street, gives a second life to some well-received Edinburgh shows. Tonight it's Jen Brister's Under Privilege - hands-down one of the best shows of the Fringe - and Maisie Adams's Hang Fire, a story that packs a big surprise. Click here for full listings of the festival, which runs until the 29th.
Thursday September 19
LONDON: Some of the best female stand-ups in the biz gather at the Union Chapel in Islington for a night of 'menstrual-centred comedy' for Bloody Good Period, which provides period products to asylum seekers and others who can't afford them. The line-up includes Felicity Ward, Josie Long, Bridget Christie, Rosie Jones, Rose Matafeo and more,
LONDON: It's also the Funny Women Awards Final tonight, taking place in the Bloomsbury Theatre where Celya AB; Kemah Bob; Sian Davies; Charlie George; Liz Guterbock; Jen Ives; Helena Langdon; Sarah Mann; Shelf, and Laura Smyth will be vying for the title for live comedians.
MANCHESTER: It's a strong line-up at the Comedy Store this weekend with Kiri Pritchard-McLean, Mike Wilmot and Paul Thorne tonight joined by Lauren Pattison and Matt Stellingwerf for Friday and Saturday.
Friday September 20
COLCHESTER: Glenn Moore embarks on his first UK tour at the Colchester Arts Centre. It will comprise his 2018 Edinburgh Comedy Award-nominated hour Glenn, Glenn, Glenn, How Do You Like It, How Do You Like It and his 2019 offering, Love Don't Live Here Glenny Moore. Dates.
BRIDPORT: They might not be real scientists, but after a decade of pop parodies, Frisky & Mannish reckon they know a thing or two about the DNA of a banging hit. In their new tour, which kicks off at the Bridport Arts Centre tonight, they conduct scientific analyses of the molecular intersections between every pop song ever. Dates.
LONDON: The Hackney Empire tonight hosts simply some of the best stand-ups around: Andrew Maxwell, Josie Long, Rose Matafeo, Rosie Jones, Simon Munnery and Stewart Lee. Go.
LONDON: 2Northdown in Kings Cross starts its 11-day Pick Of The Fringe season with the double bill of impressionist Josh Berry's Who Does He Think He Is? and the preposterously silly Mat Ewins with the multimedia Actually Can I Have Eight Tickets Please?.
Saturday September 21
LONDON: She's reluctantly ditched the cabaret singing because she's got something important to say - and Jayde Adams's The Ballad of Kylie Jenner's Old Face certainly marks a new maturity to the previously flamboyant comic's work, without losing any of the funny. Quite the opposite in fact. And tonight she records it as an Amazon Prime special, over two performances at the Bloomsbury Theatre.
LONDON: The Covent Garden Comedy Club at Heaven nightclub tonight features The Fast Show's Simon Day, the excellent Radio 4 stalwart Simon Evans, and gregarious Mark Dolan, ex- of Channel 4's Balls Of Steel.
Published: 15 Sep 2019
What do you think?