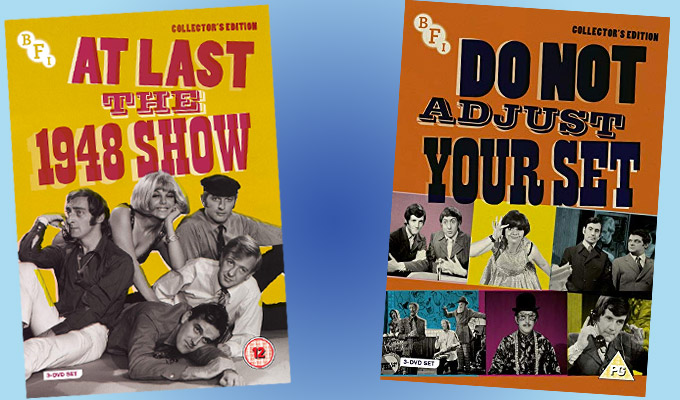 At last... the best ever collection of these Python precursors
The most complete versions of the two sketch shows that led to Monty Python are to be released on DVD later this month.
Recently recovered episodes of At Last The 1948 Show and Do Not Adjust Your Set will be included in the two triple-DVD box sets
The research, reconstruction and restoration involved in creating the box set is the biggest TV project ever undertaken by the British Film Institute's National Archive.
Over the past six years, curators have gathered every episode known to exist, while other expert reconstructed missing episodes, using audio recordings and shooting scripts, to create the most complete collection of the shows yet.
Both will be released on September 16, and will also feature archive gems and newly filmed extras.
At Last The 1948 Show
Debuting in 1967, this featured John Cleese, Graham Chapman, Tim Brooke-Taylor, Marty Feldman and Aimi MacDonald and featured the first airing of the now classic Four Yorkshiremen sketch.
A total of 13 episodes were filmed, but Thames Television wiped the tapes, so the episodes have been pieced together from a compilation series that aired on Swedish TV, the private archives of Feldman and executive producer David Frost and from other private collectors.
The new Collector's Edition DVD includes all ten surviving shows, plus two near-complete reconstructions and a partially complete episode with full-length audio. A previous release in 2007 contained just five episodes of the Swedish series.
This new collection will be officially launched at the National Film Theatre in London on Sunday, featuring a Q&A with Tim Brooke-Taylor, as part of the venue's celebrations of 50 years of Python.
Guest stars over the episodes included Eric Idle, Bill Oddie, Barry Cryer, Frank Muir, Denis Norden, Ronnie Corbett and Jo Kendall.
The extras on the new release are
Something About the Year 1948 (2019, 31 mins): John Cleese on working with Humphrey Barclay, David Frost and Graham Chapman, At Last The 1948 Show and the path to Python
We Just Wanted to Be Silly (2019, 38 mins): Tim Brooke-Taylor recalls his comedy influences and the making of At Last The 1948 Show
John Cleese in Conversation (2006, 36 mins): John Cleese joins comedy historian Dick Fiddy at BFI Southbank to reflect on At Last The 1948 Show
Reconstructing At Last The 1948 Show (2000, 44 mins, audio): the BFI's Steve Bryant in discussion with Aimi MacDonald, Tim Brooke-Taylor and audiophile Ray Frensham
John Cleese Introduces At Last The 1948 Show (2003, 2 mins): an introduction recorded for the BFI's Missing Believed Wiped event
At Last It's Dee Time (1967, 12 mins audio): the At Last The 1948 Show team's unruly guest appearance on the BBC chat show
Now and Then: Marty Feldman (1968, 25 mins): Feldman discusses the nature of comedy in this unedited interview, shot for a never-broadcast Bernard Braden documentary series
The Humphrey Barclay Scrapbook: rare photos and drawings from the legendary TV producer's personal archive
At Last Some Pictures: image gallery of promotional material
Reproductions of two scripts for the incomplete episodes
Illustrated booklet with Not Quite 500 Words by Tim Brooke-Taylor, archivist Steve Bryant's account of recovering and restoring the programmes and a look at the show's place in comedy history by the BFI's Dick Fiddy, plus episode notes with transmission dates and credits.
Click here to order the triple DVD, priced £20.99
Do Not Adjust Your Set
This children's programme, which launched on Boxing Day 1967, featured David Jason, Eric Idle, Terry Jones, Michael Palin and Denise Coffee, with musical contributions from the Bonzo Dog Doo-Dah Band.
A total of 26 episodes were released. Nine of the 14 episodes from the first series were previously released on DVD but most of the rest of the episodes were wiped.
Five more are included in the new release, including the Boxing Day special. One was recovered since it was entered for the Prix de Jeunesse award, so a copy was sent to the jury.
Special features on the new release – which will also be launched with a screening at the NFT on Sunday – are:
Putting Strange Things Together (2019, 33 mins): Michael Palin recalls his early TV days, including Do Not Adjust Your Set
We Just Want You to Invent the Show (2019, 34 mins): Humphrey Barclay on his comedy career from Footlights to Rediffusion
The Uninvited Guest Star (2019, 5 mins): Tim Brooke-Taylor on his Do Not Adjust Your Set appearance
The Funniest Thing on English Television (2019, 7 mins): John Cleese reflects on the show's impact
Bonzos on the Box (2018, 60 mins): new feature-length documentary on The Bonzo Dog Doo-Dah Band featuring Neil Innes, Rodney Slater, Roger Ruskin-Spear and 'Legs' Larry Smith
The Doo-Dah Discotheque (2019): a Bonzo video jukebox
The Intro and the Outro (2018, 2 mins): a newly filmed introduction by Neil Innes
The Christmas Card (1968, 3 mins); Beware of the Elephants (1968, 3 mins); Learning to Live With an Elephant (1968, 4 mins): animations by Terry Gilliam, newly scanned from his own 35mm film masters
Lost Listens (1969, audio): rare sound-only excerpts from missing Thames episodes
Do Not Adjust Your Scripts: reproductions of scripts from missing Rediffusion episodes
The Humphrey Barclay Scrapbook: photos, cuttings and drawings from the legendary producer's personal archive
Illustrated booklet with an introduction by Michael Palin, an exclusive interview with David Jason, new contributions from Humphrey Barclay, Neil Innes and others
Click here to order the triple DVD, also priced £20.99
Here is a trailer for both releases:
Published: 2 Sep 2019
What do you think?