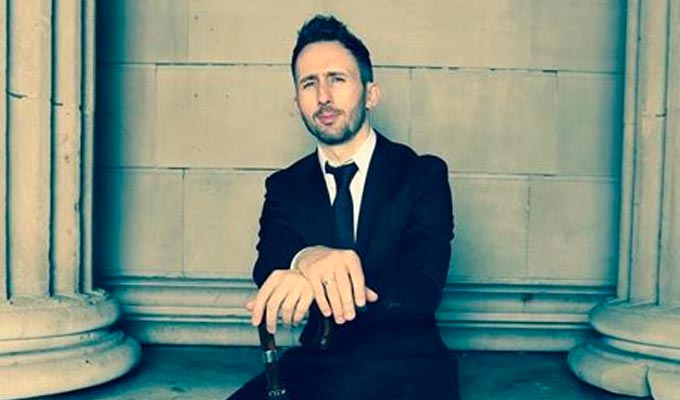 New podcast on the psychology of stand-up
Psycomedy
Launched yesterday, this podcast aims to look at the psychology of stand-up.
It comes from comedian Nathan Cassidy – who studied the subject at Bristol University – and asks such questions as: What makes a stand up comedian tick? How do they handle heckles and bad gigs? Are they brave or just maladjusted individuals? And what makes them want to do this impossible job in the first place?
He told Chortle: 'For the conversations, myself and the guests don't look at each other for the duration, they lie back like on a psychiatrist's couch, allowing them to more easily free associate.'
The first episode is with Matt Richardson, pictured, in which he reveals he used to get 1,000 tweets every time he presented The Xtra Factor, 500 of which were abusive – and he read every one.
Future episodes will be released every Friday with guests including Sara Barron, Trevor Lock, Luke Kempner, Eric Lampaert, Cally Beaton, Shazia Mirza and Mitch Benn. Listen on iTunes or Spotify.
The podcast is being made in association with ThreadUp, a Manchester-based counselling service for creatives. Here's a trailer:
The Mind Of Herbert Clunkerdunk
Four ten-minute episodes of Spencer Jones's brilliantly inventive comedy dropped on iPlayer this morning. We reviewed the first here – and watch the series here.
Documentary Now!
This mockumentary series on America's IFC network is little heard of over here, but it's just been nominated for four Emmys and has been created by four comedy powerhouses: Fred Armisen, Bill Hader, Seth Meyers and Rhys Thomas (not the Brian Pern co-creator). Critics love it, too, with season three – which has just been released on Amazon Prime – scoring 100 per cent on review aggregate site Rotten Tomatoes. Guest stars in this series include Owen Wilson, Cate Blanchett with subjects including a small-town cult, an eccentric jazz guitarist and an obssesive fan of the comic strip The Far Side who tries to meet its creator Gary Larson.
Andy Kindler's State Of The Industry
In a 24-year tradition of Montreal's Just For Laughs comedy festival, embittered comic Andy Kindler roasts the industry that he thinks has been so cruel to him while rewarding the talentless. We reported on some of the highlights here but you can listen to the full speech below, introduced by Ron Funches:

Whitney Cummings: Can I Touch It?
In her fourth stand-up special, released on Netflix this week, Whitney Cummings returns to her hometown of Washington DC, to talk modern feminism, technology and both together as she brings a sex robot on stage… Watch here
Published: 3 Aug 2019
What do you think?