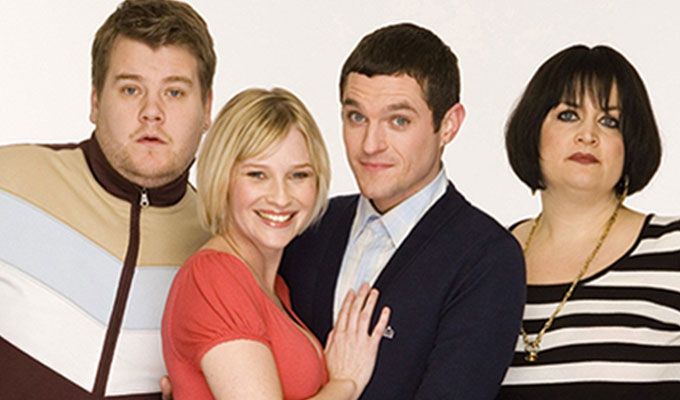 Filming starts on Gavin & Stacey Christmas special
Filming has started on the Gavin & Stacey comeback Christmas special.
The streets of Barry have been decked out with festive decorations, and cast members including Rob Brydon, Mathew Horne, Joanna Page and Alison Steadman have been spotted filming scenes.
Co-creators Ruth Jones and James Corden – and a now US talk show star – were also even spotted outside the South Wales terrace which stands in for Uncle Bryn's house, reviving their roles as Nessa and Smith Smithy
The film crew have closed off the street from 3pm to 3am, for two days telling residents they would try to keep disruption to a minimum.
But judging by the excitement on Twitter, few were concerned about that…
Filming #GavinAndStacey so excited 😁😁 pic.twitter.com/8QHHtmq8Yb

— Edan (@EdanEdwards) 12 July 2019
It's happening!!! 🤩#gavinandstacey pic.twitter.com/cTp0yyrMNv

— Josh East (@Josh_East1) 12 July 2019
It's only just #gavinandstacey ❤️cannot believe I caught this on camera! pic.twitter.com/L3O8FEEUYl

— Steff (@SteffanAlex97) 12 July 2019
you have no idea how happy i am to see these two working together again 🙌🏼🙌🏼♥️ #gavinandstacey pic.twitter.com/bJc7zX5Nxc

— 𝕝𝕒𝕦𝕣𝕖𝕟♡ (@laurenmckenna92) 12 July 2019
When Corden and Jones announced that their hit show was coming back after a decade, they said: 'Over the last ten years we've talked a lot about Gavin And Stacey – where they might be today and what their lives might look like
'We've loved revisiting Barry and Essex again and bringing the characters back together has been a joy.'
Published: 12 Jul 2019
What do you think?