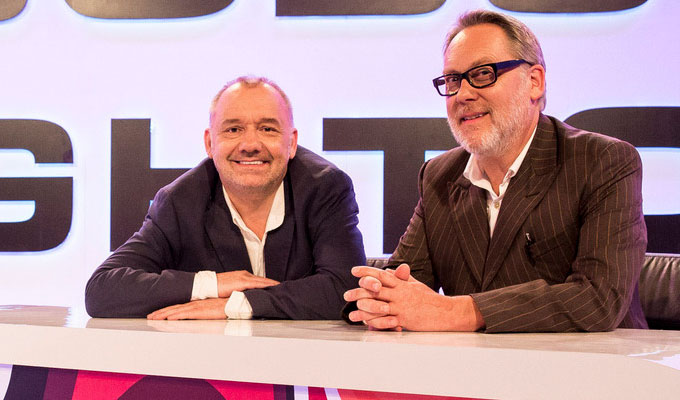 Another series for Vic & Bob's Big Night Out
Vic & Bob's Big Night Out is to return to TV.
BBC Four has commissioned another four episodes of the show, having aired a successful run last year.
Vic Reeves and Bob Mortimer will again be joined by Vaun Earl Norman for the new series, which also promises a return of Judge Nutmeg's Wheel of Justice, The Free Runners and Mostly UnHaunted – and Novelty Island.
In a statement, Vic and Bob said: 'We've had so much fun writing this series, the chemistry between us has never been so explosive and we can't wait to get going - for our writing to make it on screen and see how it all works out.'
And Shane Allen, the BBC's controller of comedy commissioning, added: 'Vic and Bob continue to pioneer, dazzle and reduce audiences to helpless laughter. Who knows what inventive brilliance is in store, it's not like the scripts will give us much of a clue. They return at the height of their comedy powers with more audience love than ever.'
Vic & Bob's Big Night Out was revived by BBC Two for a one-off in 2017 before last year's run of four episodes was commissioned by BBC Four.
The hugely influential show was originally broadcast by Channel 4 over two series from 1990 – then credited just as Vic Reeves' Big Night Out and based on the stage shows the pair used to perform at Goldsmiths Tavern in South London.
The revival started when they brought back many of the show's creations, including The Man With The Stick, Judge Nutmeg, and The Stotts for their 2015-2016 live tour Poignant Moments, their first in more than 20 years.
Big Night Out production credits
Made by: BBC Studios for BBC Four
Producer: Lisa Clark
Executive producer: Ben Caudell
Studio director: Mat Whitecross
Commissioning editor: Alex Moody for the BBC
Published: 23 May 2019
What do you think?