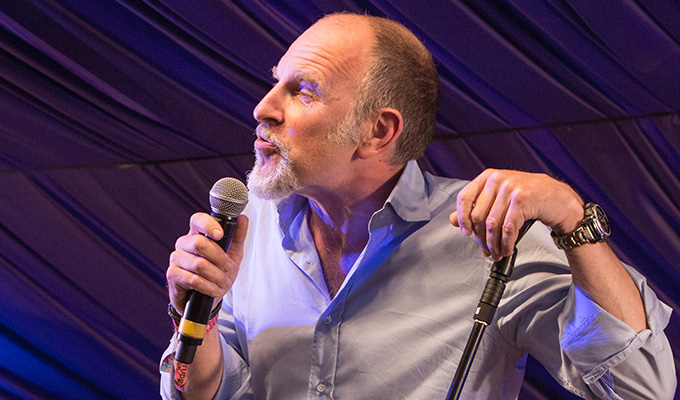 Making money funny
The comedy week ahead on TV and radio.
Sunday April 21
THE COMEDY YEARS: ITV3 continues its nostalgia show, which is being stripped over the bank holiday weekend. Tonight it's 1998: the era of New Labour and Blair's Britain and the year in which The Royle Family, Goodness Gracious Me and Dinnerladies began - but Drop The Dead Donkey and Father Ted ended. ITV3, 9pm.
NIGHT TERRACE: As Chortle reported last month, Radio 4 Extra brought this half-hour sci-fi comedy from its Australian creators, a team of Doctor Who podcasters who raised the finances through crowdfunding. It stars Jackie Woodburne – who played Susan Kennedy in more than 5,000 episodes of Neighbours – as a former government scientist whose quiet retirement is disturbed when her house unexpectedly starts travelling through space and time. Comedian Ben McKenzie, who co-wrote the script, and actor/singer Petra Elliott join her – while the guest cast includes comics Alan Brough, Cal Wilson, Celia Pacquola, Adam Richard, Dave Callan, Lawrence Leung, Tripod's Steven Gates and the late John Clark. It even features cameos from Louise Jameson – Doctor Who's Leela – and Nicholas Briggs, who was the voice of the Daleks. Radio 4 Extra, 6pm.
8 OUT OF 10 CATS: Apparently 'celebrity receptionist' is a thing now, as guest on this episode include Paisley Billings, the receptionist on Tattoo Fixers, and Tom Read Wilson, who does the same job on Celebs Go Dating. Comics Angela Barnes and Lloyd Griffith complete the teams, with guest captain Katherine Ryan, regular Rob Beckett and host Jimmy Carr. E4, 9pm
Monday April 22
THE COMEDY YEARS: This episode looks back at comedy from 2003: the final series of The Office, we reached peak hidden camera shows with Trigger Happy TV and Three Non Blondes, Bruce Forsyth made a memorable appearance as guest host of Have I Got News For You and Bob Monkhouse performed his last ever stand-up gig to an audience of fellow comics in a small London pub. ITV3, 9pm.
TRAVEL MAN: 48 HOURS IN PORTO: Nish Kumar joins Richard Ayoade in Portugal's second city, taking a tipple of the city's eponymous fortified wine, experiencing a '5D' cinema and climbing the Arrábida bridge. Channel 4, 8.30pm.
Tuesday April 23
TIM KEY'S LATE NIGHT POETRY PROGRAMME: This 2012 Radio 4 series, which co-stars Tom Basden, gets a repeat run. Radio 4 Extra, 11.30pm.
Wednesday April 24
URBAN MYTHS: This week's episode, Bleak House Guest, tells the story of when Hans Christian Andersen turned up unexpectedly on the doorstep of Charles and Catherine Dickens, quickly proving himself to be a very unwelcome house-guest. Stephen Mangan plays Dickens, Ian Hart is Andersen and Monica Dolan is Catherine. Sky Arts, 9pm
SIMON EVANS GOES TO MARKET: The comedian's look at the world of economics widens its scope for the fifth series to look at grand macroeconomic theories, starting with the work of influential free-market thinker Adam Smith. Radio 4, 6.30pm
Friday April 26
JOHN BISHOP'S IRELAND: Another comedian does another travelogue. In this opening episode, John Bishop watches the All-Ireland Gaelic football final and meets both a lecturer on folklore and a fisherman. ITV, 8pm
Published: 21 Apr 2019
What do you think?