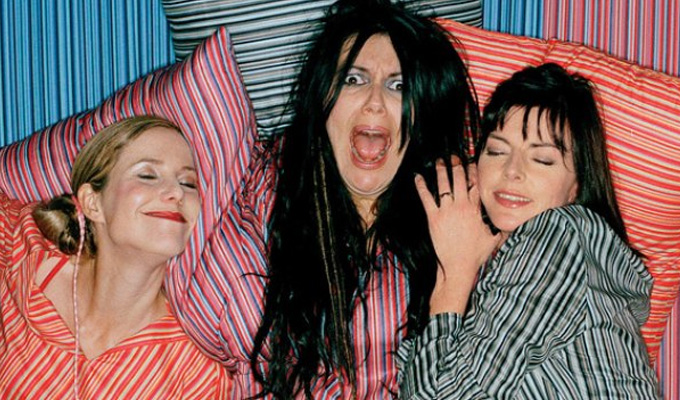 How Amanda Holden was first choice to be in Smack The Pony
Twenty years ago to the day, Smack the Pony launched the comedy careers of Fiona Allen, Doon Mackichan and Sally Phillips.
But the line-up was almost very different, the show's creator Victoria Pile has explained – as the pilot was originally shot with Amanda Holden in the team.
Originally the future Britain's Got Talent judge was cast alongside Phillips and Allen. But 'come the series, Amanda dropped out and Doon Mackichan joined the gang, with Sarah Alexander as our regular guest', Pile told BBC News.
Holden still appeared in the sketch show, featuring in four episodes of the first series.
Pile added: 'The overriding mission from day one was to prove that women could make anyone and everyone laugh. We quickly established a writing brief that banned all period jokes..., no over-indulgence in female-centric issues, and concentrating on contemporary life.
And Pile – who went on to create Green Wing – said Smack The Pony paved the way for a new generation of female comedians.
' I feel there's been a marked increase in women taking the lead in being irreverent, silly, rude and honest,' she said. 'I think we opened some doors that people didn't know existed.'
Phillips has previously spoken about how Mackichan landed her role in the show.
In a 2015 Guardian interview, she said: 'I bumped into Doon Mackichan on the stairs at the production company Talkback one day and said: "I'm putting together this girls' sketch show, I really need you."
'Then I got a cold and went to bed for three days; when I got back up, Doon was in the show. She was a fantastic performer – if she was a man, she'd already have had her own show – and she brought energy and loads of material. Within 24 hours of Channel 4 watching the pilot, we had a series.'
Earlier this year it was revealed that the trio were working on a comeback, with Allen saying they were 'currently working on reunion projects'.
The show originally ran on Channel 4 between 1999 and 2003, with the first two series each winning an Emmy. It is currently available on All4.
Published: 19 Mar 2019
Recent News
What do you think?