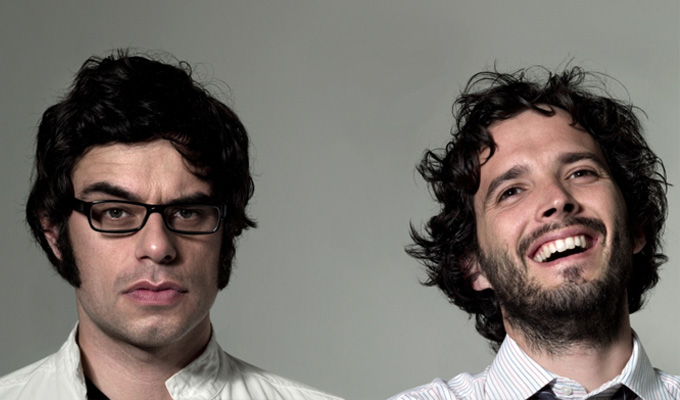 Flight Of The Conchords to release a new album
Flight of the Conchords are to release a new album, Live In London.
The tracks were recorded at the Hammersmith Eventim Apollo during Bret McKenzie and Jermaine Clement's Flight Of The Conchords Sing Flight of the Conchords Tour last year.
Previously the show has been released as a DVD, having been taped as an HBO special.
Live in London will be released as a download, double CD or triple vinyl LP on the Sub Pop label on March 8.
It features seven new songs and 15 old favourites, including Carol Brown and The Most Beautiful Girl (In The Room), which were edited out of the HBO special because of timing constraints.
The new tracks are Iain and Deanna, Father and Son, Summer of 1353, Stana, Seagull, Back on the Road and Bus Driver.
Iain and Deanna, has been released on YouTube as a taster. Based around an office flirtation, it contains such lyrics as: 'Gonna feel your boob-a in the back of an Uber/ I'm going to play with your jacksie while you pay for the taxi.'
The single Father And Son was previously released from the album in December.
Order the album here.
Track listing:
Father and Son<
Band Reunion
3. Iain and Deanna
4. Inner City Pressure
5. New Zealand Symphony Orchestra
6. Summer of 1353
7. Complimentary Muffin
8. Stana
9. Stuck in a Lift
10. Foux du Fafa
11. Seagull
12. Mutha'uckas – Hurt Feelings
13. One More Anecdote
14. Back on the Road
16. Bowie
17. Bus Driver
18. Tuning
19. Robots
20. Shady Rachel
21. Carol Brown
22. The Most Beautiful Girl (In the Room)
Published: 23 Jan 2019
What do you think?