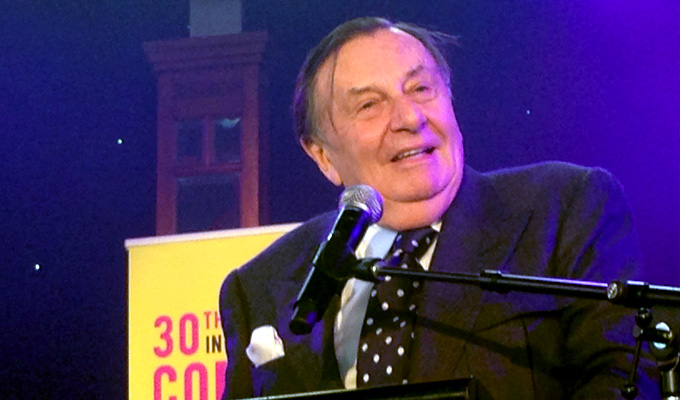 Barry Humphries returns to London
Barry Humphries is to return to the West End this spring to host a silent comedy showcase.
The Dame Edna creator will take to the London Palladium stage to introduce a screening of Buster Keaton's Steamboat Bill Jr and shorts from Laurel & Hardy and Charlie Chaplin, all accompanied by a live orchestra.
The Bristol Ensemble will perform a new score for the movie, composed and conducted by Carl Davis.
Humphries previously worked with Davis in 1981, for Last Night of the Poms at the Royal Albert Hall.
Barry Cryer, Ronnie Golden, and Bernie Clifton will also be on stage at the matinee and evening screenings on April 28. Cryer has recently cancelled some gigs because of a hip operation but is expected to resume his tour at the Norwich Playhouse in March.
Michael Palin has also added his support to the Silent Comedy Spectacular, saying: 'If you've a shred of a sense of humour, this'll be one of the high points of the year.'
Humphries last appeared at the Palladium as part of his farewell tour in 2013, retiring his most famous characters from the live stage. But he has continued to perform live, including a show based on the Weimar Cabaret which he performed at the Barbican last year.
The Silent Comedy Spectacula has been organised by Chris Daniels, founder of the annual Slapstick Festival that takes place in Bristol.
He said of Humphries: 'As far as pioneers of visual comedy go, it is hard to think of anyone better-suited to present such a rip-roaring evening of laughs, gags and antics.
'Slapstick comedy may conjure up memories of grainy, black-and-white images of a bumbling Charlie Chaplin or a haphazard Buster Keaton but contrary to what some might think, it is a sophisticated comedy form that is very much alive and well.
'Visual comedy does not rely on language to be funny, so it is a phenomenon that is loved the world over. You only need to look to characters like Mr Bean and Aardman's Shaun the Sheep to realise slapstick's enduring appeal still strikes a chord a hundred years on.'
Tickets for the Silent Comedy Spectacular are available here.
Published: 22 Jan 2019
Recent News
What do you think?