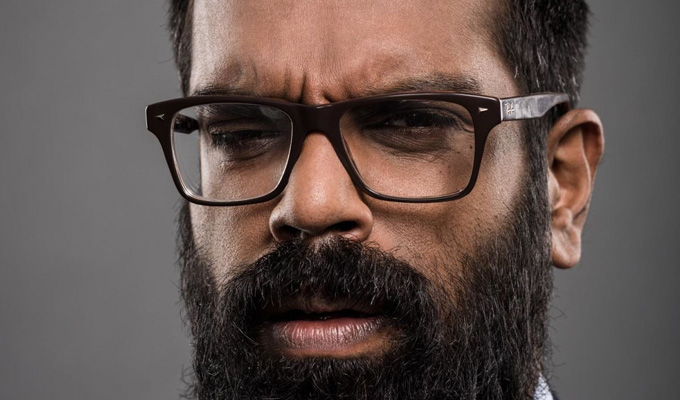 Can Romesh crack America?
The best of the week's comedy on TV and radio.
Tuesday January 15
CATASTROPHE: Sharon Horgan and Rob Delaney's great comedy continues, wih Rob's ( newly religious sister Sidney (Michaela Watkins) visiting from the US, while Chris (Mark Bonnar) introduces his new young girlfriend. Channel 4, 10pm
Wednesday January 16
JUST ANOTHER IMMIGRANT: Originally shown on Showtime In the US, this series charts Romesh Ranganathan's attempts to crack America. He moved his family out to Los Angeles where he booked himself a show at the 6,000-seat Greek Theatre, giving himself just three months to go from zero profile to selling it out. It starts with a double bill. Sky One, 10pm

Thursday January 17
MARK STEEL'S IN TOWN The comic returns to Radio 4 with the ninth series of his award-winning show, that travels around the country visiting towns and writing some bespoke comedy for the local residents. In the first episode Mark visits Hastings, mainly known for its battle, but they don't like to go on about that. Apart from the 70-plus businesses with 1066 in the title (and the building supplier called William the Concreter). They also have an annual Pirates Day where everyone dresses as pirates and gets drunk, Jack In The Green day, where everyone paints themselves green and gets drunk, a statue of a giant winkle, and lots of pubs where you can watchbands... and get drunk. Radio 4, 6.30pm
Saturday January 19
ARCHIVE ON 4: GARETH GWYNN'S ALTERNATIVE ARCHIVE The regular Radio 4 comedy writer uses genuine archive from the last 50 years to forge a differnt view of history, in which Russia landed the first man on the moon and Tony Blair became European President. Radio 4, 8pm
Published: 13 Jan 2019
What do you think?