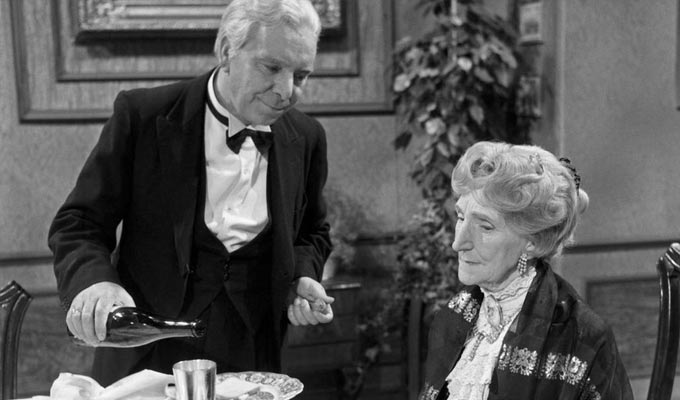 After 55 years, Dinner For One gets its first British TV broadcast
Dinner For One – the 55-year-old British comedy short that has become a German New Year tradition – is to be shown on British TV for the first time.
The broadcast on Sky Arts at 6.10pm on December 31 follows its first ever screening at a UK cinema, when it was shown as part of the Scottish Comedy Film Festival in Campbeltown last month.
The 1963 film is a recording of the routine that Grimsby-born comedian Freddie Frinton first performed in the music halls.
He plays James, a butler to upper-class Englishwoman Miss Sophie (May Warden) who is throwing a party to celebrate her 90th birthday. But all her friends have died so James makes his way around the table, impersonating each guest in turn, knocking back their drinks and becoming increasingly inebriated.
During every course, James asks: 'The same procedure as last year, Miss Sophie?' and is told: 'The same procedure as every year, James!'
Frinton first performed the sketch on stage in the 1920s, but its unlikely popularity arose after it was taped in Blackpool – in a single 18-minute take – by German broadcaster Norddeutscher Rundfunk.
Now it has become a tradition in Germany where up to half the population watch it every year on New Year's Eve. Even more peculiarly, it is normally screened in English, without dubbing or subtitles.
Versions are also shown by Swedish and Danish channels at New Year's Eve while it is a December 23 staple in Norway. It is also known in Finland, Estonia, Latvia, Lithuania and Austria – and once held the Guinness World Record most annually repeated show – but is almost unheard of in the English-speaking world.
Frinton died of a heart attack in 1969 aged 59 and did not live to see the international success of the sketch.
Published: 10 Dec 2018
What do you think?