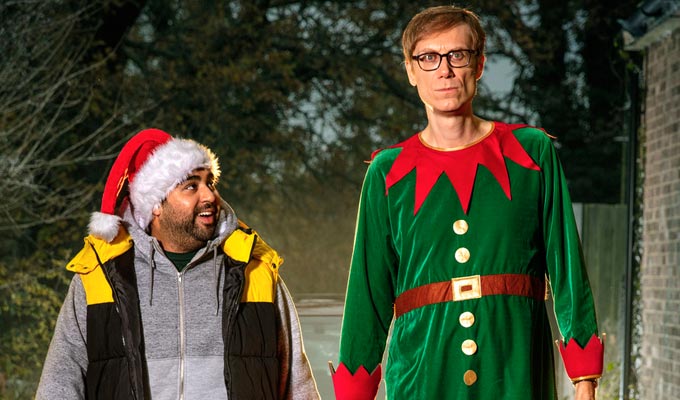 BBC blasted for its male-dominated Christmas
The BBC has become embroiled in a sexism row after it was revealed than none of its Christmas comedy shows were created by women.
All of its festive sitcoms are written by men, while other shows focus on male comedians including Morecambe and Wise, Ken Dodd, Romesh Ranganathan and Billy Connolly.
There is also a gender bias in the casting of most comedies, with only the John Cleese and Alison Steadman sitcom Hold The Sunset featuring more women in lead roles than men.
Equally, panel and stand-up shows are at best equally divided.
The inequality was first spotted by comedy actor James Bachman, who highlighted it on social media. And Chortle's full analysis - below – reveals the truth.
Bachman said: 'The BBC is simply ignoring the makeup of its audience. And, yes, it also matters a lot to the legion of talented female writers and actors and comedians who aren't getting to make television, in favour of men.
'Please don't make the mistake, by the way, of inferring that I'm arguing for quotas or TV comedy being more representative irrespective of it being good. Both of those imply that you can't find women who are good enough, when you absolutely demonstrably objectively can.
'All of the men on the BBC's Christmas list are great - they are. But they aren't 'better' than the women who aren't on that list. If you made a list of the best and funniest and most creative humans working in comedy at the moment, there'd just simply be MORE WOMEN on it.'
Speaking at the British Film Institute last night, Catastrophe co-creator Sharon Horgan was surprised at the findings.
'Is that true?' she asked, stunned. 'That really surprises me. Not that it's 50:50 in any way, and probably won't be for another 52 years, but the output of women writers at the moment is is pretty significant – a lot of really great, stand-out, critically successfulshows are written by women so that is surprising. What are they doing wrong? I don't know. Everyone's got to pull their finger our.
Oriane Messina, who worked on Green Wing and Smack The Pony, agreed. She told Chortle: ' I think it's disappointing that there don't appear to be more female writers showcased in the festive comedy offerings.
'There are plenty of talented female and BAME writers out there who given the opportunity would give viewers much needed new perspectives and I'm sure comedic gold. Let's see what the New Year brings.'
And Gail Renard, chair of the Writers' Guild Of Great Britain said: 'I've just seen BBC TV's Christmas schedule. If it wasn't for Mrs Brown, this Christmas women would hardly be represented on BBC comedy.'
Earlier this year, the guild revealed that just 11 per cent of TV comedy shows are written by women, and light entertainment fares even worse, at just 9 per cent. At the time, Sandi Toksvig said: 'There is no shortage of talented women writers in the UK, and therefore no excuse that so few of them are getting commissions in film and TV.'
Other broadcasters fare no better with their limited comedy offerings.
ITV has only one sitcom Christmas special, Bad Move, written by Jack Dee and Pete Sinclair. While in entertainment there's The Keith and Paddy Movie Show on the main channel and a celebration of ten years of Celebrity Juice on ITV2.
Channel 4 has no sitcoms, save for a retrospective celebration of the male-led Inbetweeners.
An 8 Out Of 10 Cats Does Countdown Christmas special is dominated by male contestants and guests: Sean Lock, Jon Richardson, David Mitchell, James Acaster and Joe Wilkinson with sole female guest Kathy Burke joining regulars Susie Dent and Rachel Riley.
Alan Carr hosts a Christmas special, and there's a Last Leg end-of-year special fronted by Adam Hills, Josh Widdicombe and Alex Brooker. While in the Big Fat Quiz Of The Year Jimmy Carr is joined by Richard Ayoade, Noel Fielding, Mo Gilligan, David Mitchell, Claudia Winkleman and Michelle Wolf.
In response, the BBC pointed to the female stars appearing its Christmas offerings, and how it works with several female writers and producers across the year – as well having a mainly female commissioning team.
A spokesperson said: 'The BBC is offering an unrivalled range of comedy programming this Christmas showcasing an array of female talent including Alison Steadman, Sue Johnston, Anne Reid and Joanna Scanlan starring in Hold The Sunset, a celebration of Goodness Gracious Me co-created by Meera Syal and starring Nina Wadia, Haydn Gwynne in an adaptation of The Midnight Gang, Arabella Weir, Elaine C. Smith and Doon Mackichan starring in Two Doors Down, panellists Tiff Stevenson and Rachel Parris in a Mock The Week special, Sian Gibson joins the Would I Lie To You at Christmas team, Sarah Millican hosts our Live at the Apollo festive special and Sally Bretton co-stars in a live episode of Not Going Out, to name a few.'
None of the sitcoms mentioned was written by a woman, but the spokesperson added: 'Additionally, BBC iPlayer is offering a collection of comedy box sets including Susan Nickson's Two Pints of Lager and a Packet of Crisps, Miranda Hart's Miranda, Luisa Omielan's Politics For Bitches and Phoebe Waller-Bridge's Fleabag.
'2018 has been a year of unprecedented championing of female comedy writing including many emerging and greatly diverse talents with Sharon Horgan, Holly Walsh, Helen Linehan, Sara Pascoe, Diane Morgan, Daisy May Cooper, Gbemisola Ikumelo, Ambreen Razia, Kayleigh Llewellyn, Sophie Willan, Lucy Montgomery, Martha Howe-Douglas, Daisy Haggard, Laura Solon, Rose Matafeo, Ellie White, Tash Demetriou, and Barunka O'Shaughnessy, among others, all featuring across BBC channels.
'We've set out a clear commitment to developing female comedy talent – including running the Caroline Aherne Bursary - and we'll continue to develop and support brilliant female writers and performers to make even more progress.'
Published: 8 Dec 2018
What do you think?