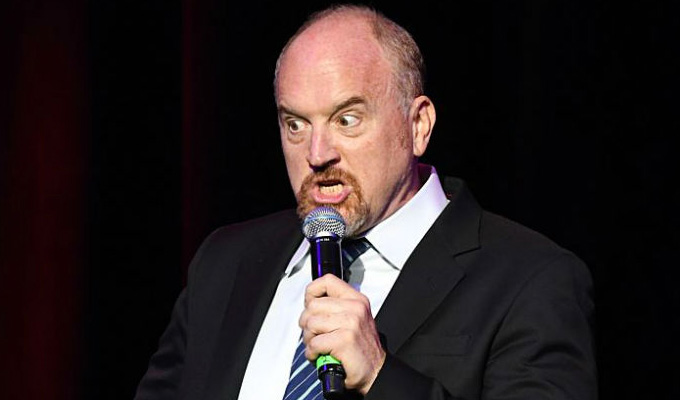 Sunday: Louis CK. Tuesday: Sexual harassment benefit
It's probably the one time you can guarantee Louis CK won't make a surprise appearance at New York's Comedy Cellar.
The New York comedy club that has attracted criticism for allowing the comedian back on stage despite his inappropriate sexual conduct is hosting a fundraiser for victims of sexual harassment tonight.
And it comes just two days after CK's last appearance at the Greenwich Village venue.
Comedy fan Klaire Randall says she was ejected from the club on Sunday when she heckled the comedian, who admitted masturbating in front of colleagues after his behaviour was exposed by the New York Times,
Randall wrote on Twitter that she told CK 'to get his dick out on stage' in a post that has attracted more than 50,000 'likes'.
Tonight's gig at Comedy Cellar's Village Underground site will be raising money from its $45-a-head tickets to aid No More and Raliance, which are fighting to stamp our sexual and domestic violence.
The gig has attracted some controversy, with female-skewed pop culture website The Mary Sue called it 'lip service tokenism'.
Nikki Glaser, Judy Gold, Rachel Feinstein, Emmy Blotnick are on the bill with MC Jon Fisch.
Published: 4 Dec 2018
What do you think?