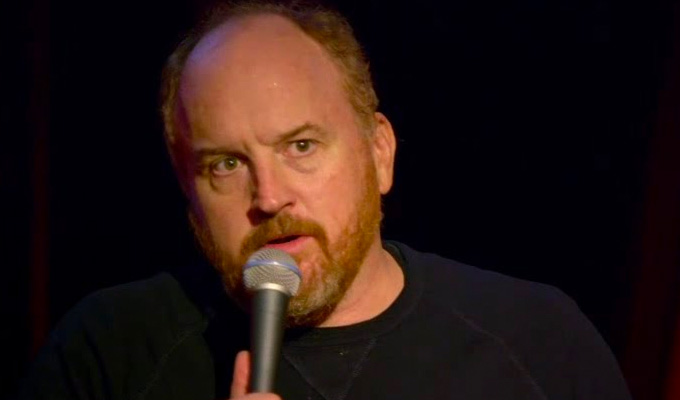 Louis CK does his first hour-long post-scandal show
Louis CK has performed his first full-length solo show since being floored by scandal – but in Paris where he could avoid the glare of the US media.
The comic's appearance as part of an English-language showcase at Le Theatre de L'Oeuvre was advertised just 24 hours in advance.
He performed a 70-minute set that made no direct reference to the behaviour that caused his career to crash last year, when the New York Times revealed that he had masturbated in front of several women.
According to reports of the gig, he opened the gig by asking the audience, 'So what kind of year have you guys had?' before admitting that he 'had a lot of trouble in the PR department' and repeating his complaint that he lost $35million in an hour.
He called Paris a 'nice place, a place where any shitty American is welcome'.
The hour-long set was apparently greeted so warmly by the audience that he performed a ten-minute encore.
Last month, CK made his first advertised appearance at New York's Comedy Cellar following the sexual misconduct scandal that brought him down, prompting a small protest by two women who got wind of his gig.
There were no hecklers or protestors at the Paris venue, according to the Hollywood Reporter.
American comic Sarah Donnelly opened for CK at the gig, and justified taking the booking by saying: 'If it wasn't me it was going to be another man, and that didn't seem fair either.'
She said she 'felt an enormous responsibility to speak up' although was wary that 'it's my job to be funny without committing career suicide'.
According to her comedy partner Amber Minogue, writing in The Guardian, 'Sarah did manage to refer to CK's misconduct in her set, without saying a word. Just a handy pantomime and an acknowledgement of her being the only female on the lineup, and a quick reference to #MeToo that seemed to be enough to break the tension.'
Published: 9 Nov 2018
What do you think?