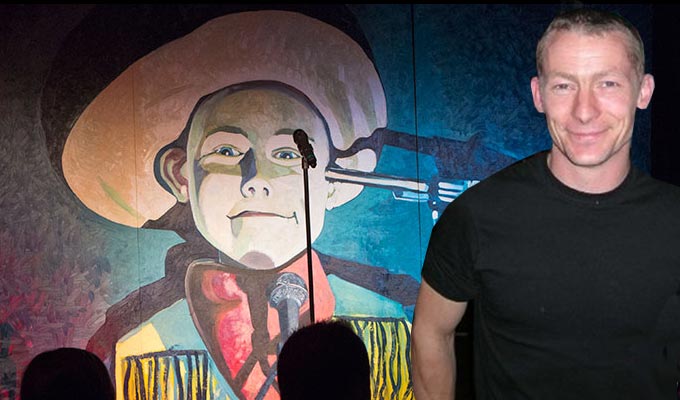 End of an era as The Stand's troubleshooter steps down
He is one of the unsung stalwarts of the Scottish comedy scene.
But now Kenny O'Brien, known to generations of comedians as the general manager of The Stand, is to leave the comedy club he is so closely linked to after 20 years in the job.
A spokeswoman for the venue said: 'He's not leaving straight away, mainly as he is yet to work out how to detach crying staff members from his legs. But he'll be organising his Fringe finale and we're definitely in sight of the end of an era.'
In a 2014 interview, O'Brien explained that his role wasn't to book acts or run the operation side of the business, but act as a form of troubleshooter 'somewhere between being a kind of glue and Harvey Keitel in Pulp Fiction. I usually come tops in the poll of people you'd phone if you accidentally killed someone and needed help with the corpse.'
He added that his job was to 'make our venues as perfect as we can manage for each performance' and that the worst part was 'dealing with punters who just don't get it. I mean just totally misunderstand the concept of a comedy club.'
O'Brien has been with The Stand since it opened its first venue in York Place, Edinburgh, in 1998. He also works across the sister clubs in Glasgow and Newcastle and is a director of their parent company Salt N Sauce.
He says he's leaving the company to pursue his hobby of rock-climbing.
Earlier this year, he ascended a vertical mile on an indoor climbing tower to raise money for Cairngorm Mountain Rescue after being involved in a dramatic helicopter rescue from a snowy crag when his climbing partner slipped and broke his leg.
Stand owner Tommy Sheppard – the SNP MP for Edinburgh East – added: 'The Stand is a thriving business which has managed to stay true to its roots and principles. The company is strong and has a great future and I'm confident that there will be many people who will be attracted to the exciting opportunity of steering us through our third decade.'
Published: 8 Nov 2018
What do you think?