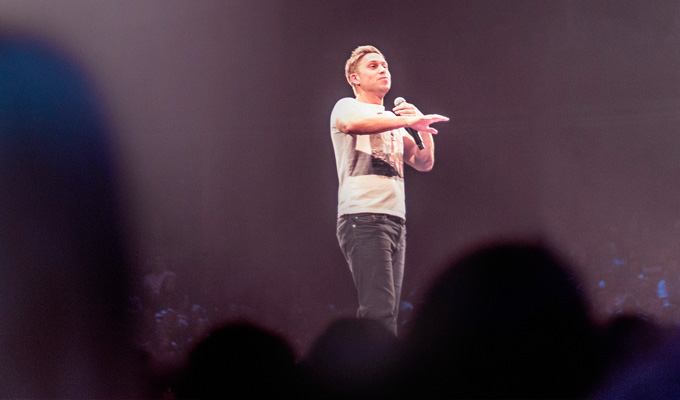 'This is a massive con'
Angry stand-up fans demanded their money back when Comedy Central Live descended into chaos this weekend.
Those who flocked to the festival in Southampton were locked out of headline shows featuring Jimmy Carr and Russell Howard after the main marquee filled up.
Organisers were forced to hole up in their box office as crowds of disgruntled ticket-holders gathered.
The chaos followed a last-minute slashing of prices to the three-day event in the wake of initially sluggish ticket sales.
Originally, entry to the event cost £22 a day, with attendees having to buy add-on tickets for the big-name shows in the main tent, meaning it would have cost £90 to see all the performance.
But with slow pick-up, the cost was price was slashed to a universal £20 – or even £10 on discount sites such as Groupon – and the additional ticket scheme scrapped. Although comedy fans were warned that this would mean 'first-come, first-served' in the main tent, many seemed unaware of the realities of that.
The largest venue had a capacity of about 4,000, but around 7,000 fans brought tickets to the Saturday, leading to long queues int he pouring rain, and much disappointment.
Disgruntled festival-goers took to social media in their drove to vent their anger.
One said: 'This is a massive con. Do not waste your time. The tickets are already sold out.'
Another added: 'So angry and disappointed at @ComedyCentral Live. Bought tickets to be told we can't actually see any of the acts because all of tickets are gone and they oversold. Absolutely shocked and expecting a full refund. So much for seeing Russell Howard tonight.'
Another posted: 'Complete rubbish. They've royally messed up the ticketing and capacity and we're leaving.'
And yet another said: 'You know a festival is seriously badly organised when the stewards are sending everyone home and telling them to ask for refunds three hours before the main act is meant to start.'
However, those who did get into the main tent posted more positive comments.
Comedy Central said ticket-buyers had been made aware of the rules, which were in place to 'manage excess demand and ensure the health and safety'.
In a statement, they said: 'We are very sorry to hear that a small number of ticket holders were unhappy with their experience at Comedy Central Live.
'Comedy Central Live has been consistently publicised as featuring multiple comedy acts performing each day across four different stages within the same venue. All ticket holders were informed at the time of purchase – and reminded subsequently – that their ticket did not guarantee them access to see any individual act and that seating would be allocated on a first-come, first-served basis.
'In order to manage excess demand to main stage shows and to ensure the health and safety of ticket holders, we asked those wishing to see main stage performances to collect an additional ticket, at no charge, to guarantee them access to the main stage.
'Unfortunately, because of the large number of tickets involved, this required them to spend some time queueing in inclement weather conditions, for which we apologise.'
Chortle attended the event on Friday, when only around 2,000 cut-price tickets had been sold for the event, which was initially licensed for 10,000 a day. Here's our review of things before the chaos hit.
Published: 8 Oct 2018
What do you think?