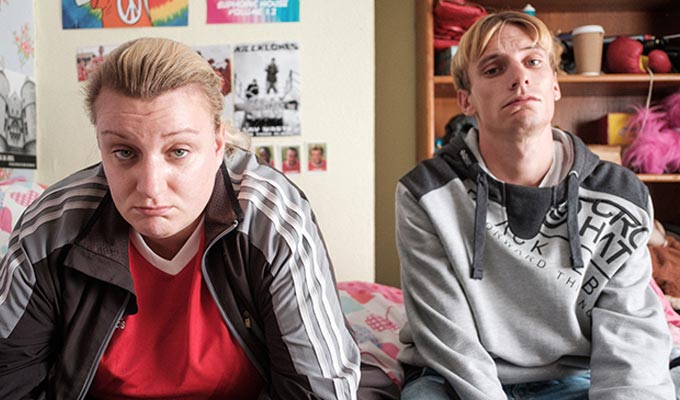 Extended special for This Country
The week's best comedy on TV and radio.
Sunday October 8
FLIGHT OF THE CONCHORDS: New Zealand folksters Brent McKenzie and Jermaine Clement's last tour - which was interrupted when the former broke two bones in his hand - gets a welcome TV outing. Entitled Live In London, it's screening here the day after its Stateside debut on HBO last night. Sky Atlantic, 9pm.
Wednesday October 10
THE BISEXUAL: Award-winning Iranian-American filmmaker Desiree Akhavan stars in this comedy drama series (which she also directed and co-wrote) which explores the difference between dating men and women, from the perspective of a person who suddenly finds herself doing both. The full series will be available on All 4, following transmission of the first episode. Click here for an interview with Akhavan. Channel 4, 10pm
ROB DELANEY'S STAND UP CENTRAL: The Catastrophe star and co-creator takes the helms of a new series, with each episode featuring an established stand-up and an up-and-commer. Tonight that's Jon Richardson and Nigel Ng. Comedy Central, 10pm
COMEDY GREATS: Barry Cryer pays tribute to the heroes of comedy he has worked with over his many years in the business over this series, focussing on Ronnie Barker, Joan Rivers, Bob Hope, Frankie Howerd and Morecambe and Wise - and, tonight, Tommy Cooper. Sky Arts, 9pm.
HOW TICKLED AM I? Speaking of old-time comedy greats, Mark Radcliffe presents a profile of Al Read, who went from making sausages to stardom at the age of 42, after being spotted by a man from the BBC. He became of radio's most popular comedians thanks to his observations of Northern English life, attracting audiences of up to 35 million in the 1950s and '60s. This documentary was first broadcast on BBC Radio 4 in 2000, and now gets a Radio 4 Extra rerun. Radio 4 Extra, 6.30pm.
EMPIRE-ICAL EVIDENCE: Stand-ups Andy Zaltzman and Anuvab Pal trace the rise and fall of the British Empire in this two-part series mixing stand-up with location reports as they offer contrasting perspectives on the shared history between Britain and India. Radio 4, 6.30pm.
Thursday October 11
WOMEN ON THE VERGE: This new six-part comedy drama has been created by Lorna Martin and Sharon Horgan and adapted from Martin's critically acclaimed comic memoir, Woman On The Verge Of A Nervous Breakdown - nothing to do with the similarly titled Pedro Almodóvar film. Set in Dublin, it follows the lives of three women in their 30s, played by Kerry Condon, Nina Sosanya and Eileen Walsh, whose lives are a bit messier and a bit more complicated than they ever thought they'd be. Click here for an interview with the creators. W, 10pm
DON'T HATE THE PLAYAZ: Stand-up Darren Harriott is a regular on this new hour-long hip-hop panel show, hosted by Jordan Stephens and with Maya Jama and Lady Leshurr leading the teams. ITV2, 10pm.
Friday October 12
THE LAST LEG: John Cleese is the guest as Adam Hills, Josh Widdicombe and Alex Brooker return for a new series. Channel 4, 10pm
Saturday October 13
THIS COUNTRY: The Mucklowes are back with this one-off, 45-minute special called The Aftermath. At the end of the second series, Daisy May Cooper's Kerry was framed by devious father, Martin, for hoarding stolen vacuum cleaners. As she faced arrest she was caught with the dilemma of whether will to save herself, or her dad? Eight months on, the film crew returns to the Cotswolds to investigate what has happened to both the Mucklowe family and the village as a whole. This special comes ahead of a new series next year.BBC One, 10.30pm.
Published: 7 Oct 2018
What do you think?