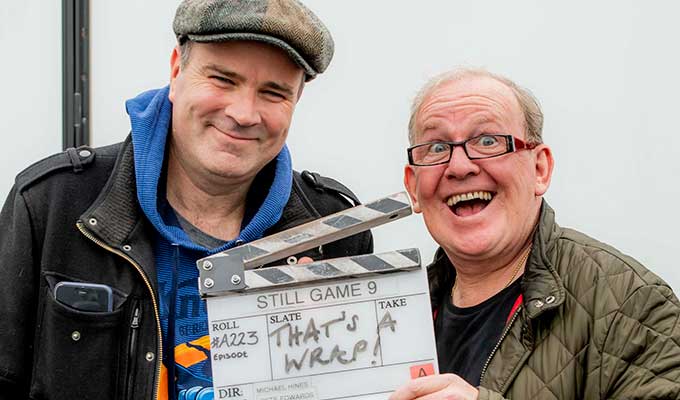 That's Game over...
The Clansman has called 'last orders' for the final time.
Filming ended on the ninth series of Still Game on Friday – the last ever season of the BBC One sitcom.
The cast tweeted their farewells from the set.
Co-creator Greg Hemphill, who also plays Victor McDade, said: 'Sad to finish but excited for the fans of the show to see how the story finishes. You guys are what makes Still Game great!'
And he then celebrated with a pint - from a glass carrying the silhouette of his character with Ford Kiernan's Jack Jarvis:
Job done! pic.twitter.com/FXiSyjaBf2

— Greg Hemphill (@greghemphill96) September 15, 2018
Sanjeev Kohli who played shopkeeper Navid tweeted a picture of his wig and fake beard, saying: 'Goodbye Navid. You were mad itchy but it was a pleasure to wear you…'
My last day on #StillGame today. EVER. Goodbye Navid. You were mad itchy but it was a pleasure to wear you... pic.twitter.com/wJaTUMIRhF

— Sanjeev Kohli (@govindajeggy) September 13, 2018
Gavin Mitchell, who plays Boabby The Barman said: 'All the best everybody. Thanks for all your love and support. Last day's filming today. "That's plenty!"
Kiernan and Hemphill have promised a 'must-see' finale, and one fan has spotted the team filming in a graveyard suggesting a sad ending for someone.
When news that the comedy would end broke in July, Hemphill said: 'We've had an amazing run but one of our hopes when we brought the show back was that we would get the opportunity to finish Jack, Victor and the gang's journey. We feel that time is upon us. We hope you will join us later in the year to see how the story ends!
Kiernan added: 'I can't believe 21 years have passed in what, for us, has been an outstanding experience of collaboration, storytelling and performing. But above all being fortunate to entertain people and make them smile. So when the last episode airs we hope your memories of our little gang will be fond ones.'
Originally a live show, Still Game made its TV debut in Scotland in 2002. When it returned in 2016 after a nine-year hiatus – and now broadcast UK-wide –  it became the most-watched TV programme in over a decade in Scotland, attracting more than half of the viewing audience.
The eighth series, which aired in March and April attracted just under 4million viewers an episode on overnight figures.
Published: 16 Sep 2018
What do you think?