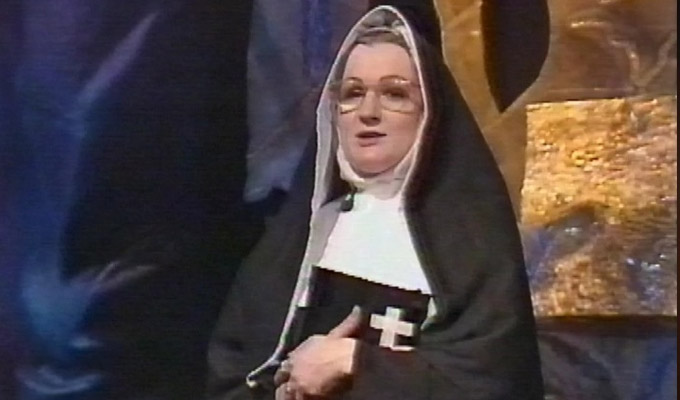 Caroline Aherne's sister act
The week's best comedy on demand.
Eat My Shorts
The finalists have been announced for this competition, run by Kevin Hart's Laugh Out Loud Network and the Just For Laughs Comedy Festival which is currently under way in Montreal. Five comedy films from across North America have been selected to screen on July 26 at the festival, and the winning filmmaker will receive distribution for their short as well as a $7,000 development deal.
Here they are:
Just For Laughs Classics
Speaking of the Montreal festival, a second volume of classic stand-up recordings from the festival have been released on Spotify from the 1990. Maybe the most interesting is a pre-fame Caroline Aherne in her guise as Sister Mary Immaculate from 1993.
There's also early work from Dave Chapelle, and sets from Rita Rudner, Jeremy Hardy, Will Durst, Norm Macdonald and more. Listen here.
The Adventures of Barry McKenzie
This 1972 film based on a cartoons strip Barry Humphries created for Private Eye has just landed on Netflix. Barry Crocker plays an uncouth Aussie who travels to England with his aunt Edna Everage, where he gets drunk, ripped off, and finally deported. Peter Cook, Spike Milligam, Oahn Bakewell and Dick Bentley also pop up. Subscribers can watch here.
Live From the BBC
Chris Washington – a best newcomer nominee at last year's Edinburgh Fringe – is the latest comic to record a half-hour stand-up special for the iPlayer strand. Watch here
Stewart Lee's Comedy Vehicle
As we reported earlier in the week, all four series are now available to watch on demand, ahead of Lee's stand-up show Content Provider being broadcast on BBC Two on July 28. Watch here.
Nobody Listens to Paula Poundstone
This veteran US comedian launched a new podcast this week, intended on a comedy guide to life, from everything to 'What do I do if I encounter a bear?' to 'should I get a penis piercing? She co-hosts with Adam Felber, and the show features expert guests who are, in episode one, sports psychologist Mario Soto and grammarian Melissa Brandzel.
Listen to episode one here.
Published: 21 Jul 2018
What do you think?