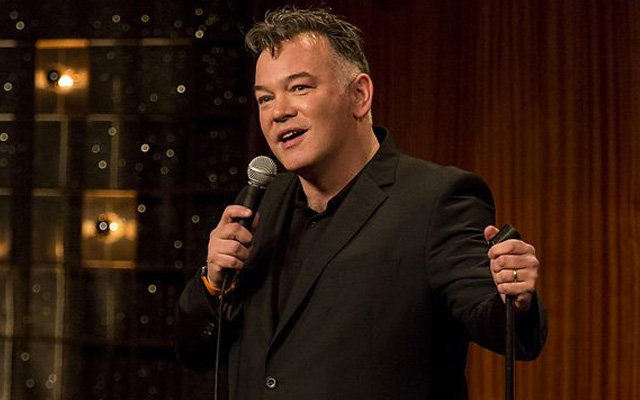 Stewart Lee on dying at the Royal Albert Hall
Stewart Lee has spoken about dying on stage at the Albert Hall, his plans for the axed fifth series of Comedy Vehicle, and of having his self-belief shaken by a mischief-making Sean Hughes.
His comments come in a wide-ranging interview – released as a limited-edition booklet – in which he also reveals that one publisher suggest he cash in on Comedy Vehicle's profile by releasing a book about funny cars, taking the title very literally.
Lee revealed that had his BBC Two show run for a fifth series it would have been filmed not in London's intimate Mildmay Club but in the sort of 1,000-seater theatres he plays now his popularity has grown.
Speaking about his onstage persona in the third person, Lee said:'I wanted to… draw out the idea that it's made him more unhappy. He's such a snob he feels that nothing that popular could possibly be any good. He hates himself for being there. And he hates the people that come.'
He said he thought it would have made 'really interesting television' compared to the usual shiny-floor stand-up shows which 'are normally played with a sense of entitlement. A sort of: here we all are! Woo! It's great!'
Lee's thoughts about how his stand-up persona reacts to popularity and acclaim, when prefers performing on the back foot so there's a jeopardy that the act might fail, is a familiar theme in the booklet – and indeed his work.
He told interviewer Neil Jackson about how he died at the Albert Hall after being invited to perform at the Teenage Cancer Trust benefit by John Bishop.
As he took to the stage, Lee noticed that he wasn't being projected on to the giant screens like the other acts, and starting complaining sarcastically about it.
'Now my audience would have laughed because it's so wrong to go on at a charity benefit at the Albert Hall and start complaining… but people were really uncomfortable' he said. 'It was totally the wrong thing to do at the beginning…'
But he concluded he had no choice to remain belligerent, as that what his on-stage alter-ego would do, even though that meant 'basically having to throw it. Because staring in character is dignified, right,? It's the right thing to do.' [Chortle's review of the gig mentioned the 'genuine confusion' among the audience]
Lee suggested it was 'great' for the mainstream panel-show comedians who shared the bill to see him struggle because 'they're never very nice to me. And they're all there delighted, because they like to say I'm not a proper comedian. I couldn't do what they do.'
Another comedian who used to undermine him, but in an entirely different way, was Sean Hughes. In the interview Lee recalls how the late comedian used to ring him up and play on his insecurities.
'I though it was just me, but it turns out he did it to loads of people,' Lee reveals.
Hughes would suggest stand-up was beneath them both, saying: 'We're all artists really.'
And when Lee said he liked stand-up, Hughes would insist: 'Really? You're not deluding yourself? Saying you like it because it's what you do, but really? Stand-up?'
'He could sense what your weakness was,' Lee recalls.
The 50-page interview also covers:
How Lee believes he will 'never to be this popular again' but how he's done the maths to figure out there'll still be enough [fans] to eke out when I'm 65 or 70', even if he has to cut back on routines that are mentally or physically challenging.
How he was asked to host The Culture Show to boost his profile as a BBC Two 'face', inspiring the routine he performed on Comedy Vehicle when he raged indignantly: 'Host The Culture Show? I am culture!'
How he tires of being taken out of context, for example his routine about Richard Hammond making people believe that he's a 'sick comedian' when it was a piece of a bigger, more nuanced, piece about the limits of taste.
How he could never be a one-line merchant, because he likes to play around with each gig like a jazz musician.
Outside of comedy, the Where Are The Thinkers? interview also covered the likes of The Fall, Dexy's Midnight Runners, Iain Sinclair and Andrew Kötting.
It is available, priced £8.75, from Post-Nearly Press.
Published: 14 Jun 2018
Recent News
What do you think?