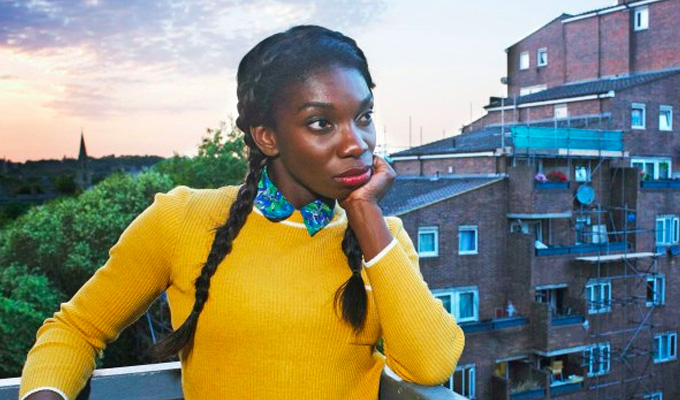 Surprise! Michaela Coel says there will be third series for Chewing Gum
Chewing Gum is to set return for a surprise third series Michaela Coel has revealed.
As recently as August, the writer and star said that she had 'reached a creative peak' with the hit E4 sitcom, and Channel 4 confirmed that there were no plans for another series.
However, she has now revealed that production is set to resume this year, with her character Tracey having finally lost her virginity.
Coel told today's Times she will also be bringing in other writers for the first time to ease her workload 'because I don't want to die'.
She added that filming Chewing Gum was 'not peaceful', adding: 'It's a beautiful catastrophe. I am running around like a headless chicken. I don't sleep because I am writing. It's manic. I love it – I don't know if I would want it any other way, but I've learnt from working with proper people… they really prepare in advance.'
In another interview late last month, Coel blamed Channel 4's slowness in recommissioning Chewing Gum for the announcement that it was over, saying: 'My offer came months after it was out, and I'd already got another job.'
But she told the Refinery 29 website that fans' reaction to the news prompted her to go back to the broadcaster – and Chortle understands she is now in talks with Channel 4 about the comeback.
Chewing Gum has also aired on Netflix since 2016, securing Coel an international profile, which has been boosted after she appeared in Black Mirror's Star Trek pastiche USS Callister. She is also set to star in the musical Been So Long for the streaming giant, and she told The Times that she has another big project in development before she can resume work on Chewing Gum.
The Bafta-winning sitcom began life as her 15-minute graduation project from Guildhall School of Music and Drama, before becoming a one-woman play, Chewing Gum Dreams, produced by the National Theatre in 2014. A short online Blap for Channel 4 followed, with the sitcom debuting in 2015 and the second series airing last year.
Coel has reassured fans that she has plenty of ideas for the new series. 'Surprisingly, my life hasn't got any less embarrassing', she said. 'And it's nothing to do with being on TV. My friends are always, like, "Why is this always happening to you?" So no, I haven't run out of material. Sadly.'
- by Jay Richardson
Published: 11 Jan 2018
What do you think?