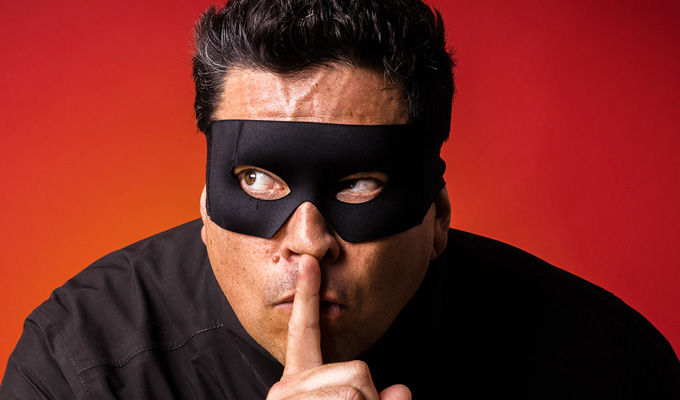 Dom Joly blasts YouTube plagiarist
Dom Joly has accused French YouTube prankster Rémi Gaillard of stealing his ideas.
A fan pointed out the similarities between several Trigger Happy TV sketches and skits Gaillard has released online.
The 42-year-old is one of the biggest YouTube stars in France, with almost 6.5million subscribers, and racking up more than 1.6billion video views.
But the new ten-minute video draws parallels with scenes such as a human snail blocking traffic, men dressed as giant woodland creatures looting a store, and a shady handover of money in a parking lot.
When contacted by the French media, Gaillard admitted 'nods' to Joly's work but also claimed that he came up with ideas independently, telling The Parisian that the snail sketch 'came to me one day in a store when I came across a snail disguise'.
He said some of Joly's work was originally inspired by Buster Keaton, claimed that he too had been the victim of plagiarism and further stated he had known Joly for a decade and were planning to make a video together.
But Joly was quick to pour scorn on that idea, tweeting: 'He is lying. He clearly suggested a collaboration last week in a panic. I think he is a comedy thief.'
And he said he had contacted Gaillard several times in the past decade to try to get him to stop stealing material. Indeed in a 2010 Independent article, Joly wrote: 'Remi Gaillard... has been stealing a lot of my original ideas and recreating them to popular internet acclaim… It seems that our Continental cousins are slightly lacking in original comedy output.'
But at the time he conceded: 'Most of Rémi Gaillard's sketches are original and funny, so I have a few less problems with him' compared to other plagiarists he mentioned.
However, in a Facebook post today Joly said: 'When I saw the industrial level of theft I was astonished.
'What really annoyed me, however, was the fact that when Gaillard got wind of the video being released by CopyComic [the YouTube channel pointing out the plagiarism] he contacted me suggesting a collaboration. I was unaware of the video at the time and agreed as I wanted to confront him in person about his behaviour.
'He then used my agreement as a defence (basically - how can I be a thief if we are collaborating - we are great mates). This was sneaky as fuck and I called him out on this.
'He has now started attacking me and even accusing me of stealing off him (with zero proof) and, bizarrely off Buster Keaton.
'If he had apologised initially then I might have let things go - imitation is the sincerest form of flattery and all that.
'His desperate, unpleasant behaviour since has made me very angry. I have taken legal advice and will not take this kind of thing lying down. I've worked incredibly hard at my craft for a long time and do not appreciate somebody behaving like this.'
In one Twitter post to Joly, Gaillard said: 'We have the same influences. I loved your nod to Buster Keaton. If it's a coincidence, it made me laugh anyway' and in another he claimed: 'There are similarities, coincidences or winks everywhere.'
Here are his tweets going on the attack:
Bonjour @CopyComicVideos, @lapresse, @moncul, https://t.co/ezKi7E3wJ4 pic.twitter.com/rz7fMJbuxq

— Rémi Gaillard (@nqtv) December 5, 2017
Hey @domjoly, nous avons les mêmes influences. J'ai adoré ton clin d'oeil à Buster Keaton. Si c'est une coïncidence, ça m'a fait marrer quand même. pic.twitter.com/ScM0zZacD1

— Rémi Gaillard (@nqtv) December 6, 2017
Hey @domjoly, Buster Keaton c'est quand même le patron, hein ? pic.twitter.com/pcFxm13Ucv

— Rémi Gaillard (@nqtv) December 6, 2017
Published: 7 Dec 2017
Recent News
What do you think?