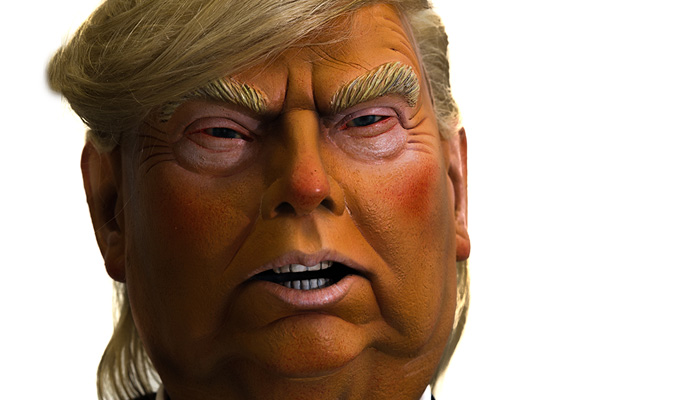 It's within Spitting distance...
A proposed US remake of Spitting Image is at the centre of a bidding war in Hollywood.
Industry website Deadline reports that a 'slew of broadcasters' – including NBC, Hulu, Netflix and Amazon – are interested in buying a rebooted series.
Roger Law, co-creator of the original, is involved in the revival, which is set to be produced by Avalon Television.
The news comes as a new puppet of Donald Trump goes on display at the Sainsbury Centre for Visual Arts in Norwich today as part of a retrospective of Law's work.
Law, who created the series with Peter Fluck and Martin Lambie-Nairn, said he hopes Trump will tweet about the revived show, telling the BBC: 'That'll get a few more viewers... He spends six hours a day watching television so of course he'll watch it.'
The original Spitting Image ran for 18 series on ITV from 1984 to 1996. A US pilot was produced in 1986 entitled Spitting Image: Down and Out in the White House but NBC declined to pick it up for a series
Deadline reports that the new series is likely to be written in New York but produced in the UK.
Published: 18 Nov 2017
Recent News
What do you think?