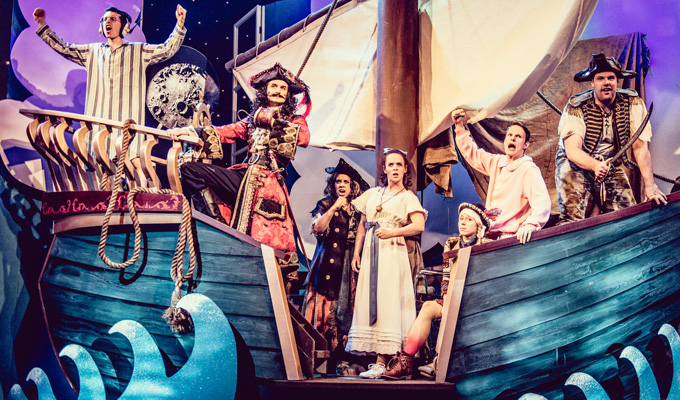 BBC One orders A Christmas Carol Goes Wrong
BBC One is to air A Christmas Carol Goes Wrong this December
The festive one-off follows the success of last year's Peter Pan Goes Wrong, pictured, which was watched by 2.6 million viewers.
It comes from Mischief Theatre Company, the troupe behind the West End hits The Play That Goes Wrong and The Comedy About A Bank Robbery.
The plot of the new special is that the Cornley Polytechnic Drama Society, who had been blacklisted by the BBC after ruining Peter Pan, force themselves back on air by hijacking a 'live' production of A Christmas Carol staged by a professional cast. They soon realise they are out of their depth with no idea how to direct a live studio or handle special effects.
Shane Allen, the BBC's controller of comedy commissioning, said: 'This promises to be a viewing treat for all the family as the Dickens classic gets the full Mischief treatment. Expect chaos and a shambles from start to finish, a bit like most people's experience of Christmas itself.'
And Chris Sussman, head of comedy and programme-makers BBC Studios, says: 'It's going to be terrible. I can't wait to see it.'
The Mischief Theatre cast are David Hearn, Chris Leask, Charlie Russell, Greg Tannahill and
A Christmas Carol Goes Wrong was written by: Henry Lewis, Jonathan Sayer and Henry Shields, who also star alongside David Hearn, Chris Leask, Charlie Russell, Greg Tannahill and Nancy Zamit.
Published: 14 Nov 2017
What do you think?