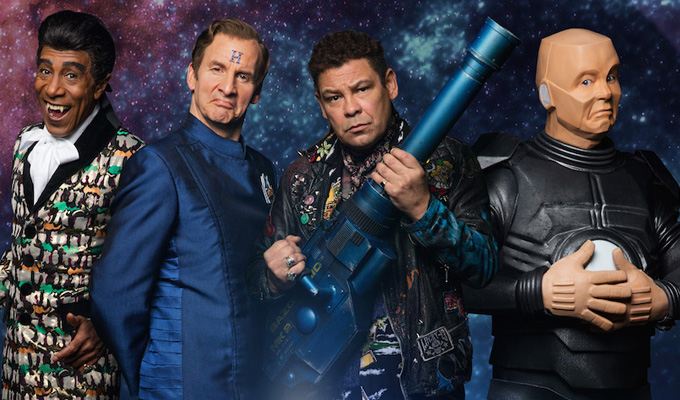 Red Dwarf plans a stage extravaganza
Red Dwarf is set to become a large-scale live show.
Co-creator Doug Naylor says he wants to stage a production based on the hit sci-fi sitcom at the O2 in London.
And he says there will likely be a 13th series of the comedy, now on Dave, before those plans come to fruition.
Speaking to the Daily Express website, the writer said: 'We want to do a tour of some kind. we've got a few things in the pipeline.'
'When I say a tour, I mean do a live show at the O2, so we need to get a schedule that works for the O2 and certainly for Red Dwarf XIII.'
The last episode of Red Dwarf XII has just been released via the on-demand service UKTV Play, before being aired on Dave next week.
And Naylor says there is huge momentum for a 13th series, even though it has not been formally commissioned.
'We're on a bit of a roll at the moment which is great. The ratings are great, the boys had a really great time making it, want to do more. Everyone wants to do it including UKTV.'
He added that he already has plenty of ideas that he couldn't fit into the 12 episodes of series 11 and 12, which were commissioend together.
However he wasn't convinced that they could make another two seasons in one go, given the cast commitments, including Danny John-Jules spending half the year in Guadeloupe filming Death In Paradise.
'We need to get something that works for him and also we're quite keen to do a tour… Probably if we did a Red Dwarf XIII and XIV, it would make the O2 live show more difficult,' Naylor added.
'So we'll probably do Red Dwarf XIII, live show and come back and probably do XIV afterward that.'
Red Dwarf XII will be released on DVD and Blu-Ray on November 20. Preorder.
Published: 10 Nov 2017
Recent News
What do you think?