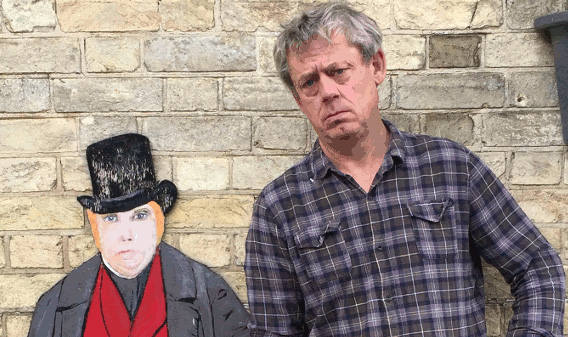 Giving John Shuttleworth a rest
John Shuttleworth creator Graham Fellows is hanging up his purple leather jacket and putting his Yahama in storage – and performing his first tour as himself.
The character comic has played his mild-mannered alter-ego since creating him as an in-joke for a music publisher more than 30 years ago.
Since then the 'versatile singer/organist' has made 11 BBC radio series, the TV rockumentary 500 Bus Stops and the films It's Nice Up North and Southern Softies as well as his live work.
But now Fellows is retiring his alter-ego – at least temporarily – and next year will tour as himself, with a show entitled Completely Out Of Character. The show will be based around his own songs sung to a guitar accompaniment – many funny, but some sad and including one true-life ballad entitled Mark Rylance Was My Lodger.
He will also talk about Shuttleworth as well as his other comic characters, plus his acting role on Coronation Street, and becoming a teenage pop star as Jilted John – making No 4 in 1978 with the song of the same title and its punk refrain: 'Gordon is a moron'.
Earlier this year Fellows played a gig as Jilted John at London's 100 Club and he has said: 'I'm more of a musician than a comedian; I stumbled into comedy and I'd like to work with other musicians now, on something a bit more leftfield.'
In that interview with the Manchester Evening News he also explained that he was retiring Shuttleworth 'to preserve the integrity of him'.
He added: 'Everyone wants you to carry on, but sense rules that you get out while the going's good.'
'I've got projects I want to work on, a solo album, radio ideas to promote, a place up in Orkney I want to develop into a recording studio and a place you might come for yoga or pilates'.
However his agent Richard Bucknall said fans hadn't seen the last of Suttleworth.
He said: 'Although Graham is switching to the man behind the character for the next tour, John Shuttleworth is definitely still alive and kicking.
Click here for the Completely Out Of Character tour dates.
Published: 8 Nov 2017
What do you think?