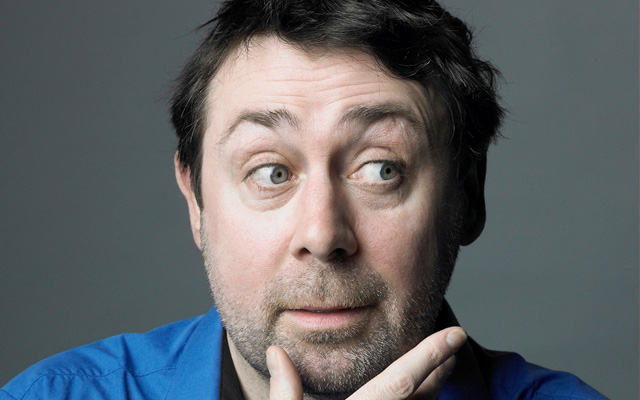 Sean Hughes dies at 51
Comedian Sean Hughes has died at the age of 51
Fellow comedian Carl Donnelly broke the news on Facebook, posting: 'He's been ill for a while but has mostly kept it quiet. He had been in hospital on and off these last few weeks but passed away at home last night.
'He's been a good mate and someone who has helped me develop as a comedian for ten years so all that needs to said right now is that I'll miss him.'
His former promoters, RBM Comedy, also confirmed the news via Twitter.
It is believed he had been suffering from cirrhosis of the liver and had gone into cardiac arrest.
Hughes was the youngest winner of the Perrier award for comedy in 1990, at the age of 24. His show in which he played a lovelorn Morrissey fan alone in his bedsit – was one of the first to have a narrative, rather than being made up of unrelated stand-up routines.
Two years later landed his own Channel 4 comedy Sean's Show, a sitcom in which he acknowledged the artifice of the format, in a similar way to It's Garry Shandling's Show in the US.
He was best known for being a team captain on the BBC Two panel show Never Mind the Buzzcocks from 1996 to 2002 , where he appeared alongside Phill Jupitus and Mark Lamarr.
He also appeared in a string of TV and film roles, including: Coronation Street, Casualty, the ITV adaptation of Agatha Christie's They Do It With Mirrors, the 2010 film version of Tony Hawks' best selling book Round Ireland With A Fridge – and the lead in the 2002 film adaptation of Spike Milligan's comic novel, Puckoon.
Comics lined up to pay tribute today. Jason Manford tweeted: 'Very sad to hear about Sean Hughes. A brilliant comic and a lovely bloke. RIP.'
Jarlath Regan added: 'Seàn Hughes has died and I'm fucking heartbroken. So funny on stage, so infuriating to know and so sad he's gone'
Richard Herring tweeted: 'Sean Hughes. What a punch in the soul that is', and Jo Caulfield said: 'Horrible news. Another talent 'gone far too soon. RIP Sean Hughes.'
Aisling Bea called him 'a wonderfully silly, anarchic & hilarious comic' adding: 'I always enjoyed the mad tangents our conversations would take.'
Nica Burns, producer of the Perrier Awards (now called the Edinburgh Comedy Awards) said: ' He was a huge talent, a really good comic, instinctive timing from day one and a very good writer. He will be missed.'
Hughes himself last tweeted on October 8 just two words: 'In hospital.'
He never married and had no children, saying such a relationship would not suit his lifestyle.
Here he is performing a short musical about ageing on Ireland's Ray Darcy Show last year.
Published: 16 Oct 2017
What do you think?