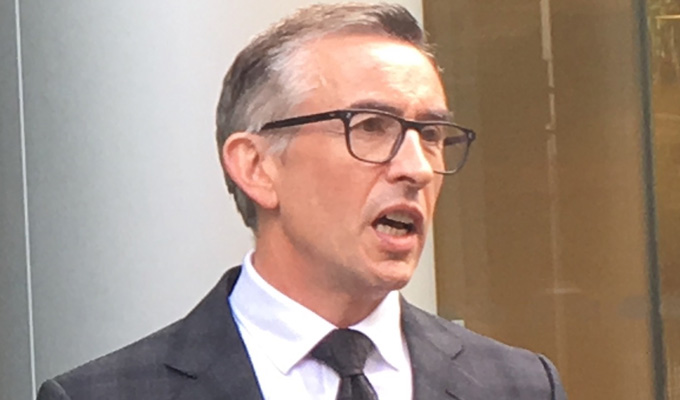 Steve Coogan wins phone hacking damges
Steve Coogan has won undisclosed damages thought to run into the hundreds of thousands of pounds for being the victim of phone hacking.
Speaking outside court, the comedian said that most of the money he won from Mirror Group Newspapers would go to good causes.
And he said that the result was a 'vindication' of the campaign he has waged against quarters of the press as part of the Hacked Off organisation
He said: 'As a part of the agreed statement made in court this morning, the Mirror have accepted and apologised for the concealment of these illegal activities and have said that the victims should not have been denied the truth for so long.
'Were it not for the Mirror's threat to seek their costs ill continued with my case, I would have sought to scrutinise these activities further arid get to the bottom of the extensive cover-up which I believe took place.
'It is my belief that hacking at the Mirror's papers took place for up to 15 years. Journalists at all three papers- The Daily Mirror, the Sunday Mirror and the People - under successive editors hacked the phones of thousands of people - not just celebrities and public figures but their families and people who just happened to be in the news.
'The way they behaved is a disgrace to the record of the what was a fine newspaper publisher.'
He added that former executives of the paper, including ex-editor Piers Morgan 'have not yet been subjected to proper scrutiny' and called for a second part of the Leveson inquiry to determine who was responsible for hacking, 'who knew about it and who covered it up or turned a blind eye'.
More than 40 celebrities have already settled phone-hacking claims against MGN, including Lord Archer, footballer Kevin Keegan and actresses Patsy Kensit and Michelle Collins.
Dozens more are taking action against News Group Newspapers, publisher of the The Sun and now-defunct News Of The World, including comedy agent Caroline Chignell.
Here is Coogan's statement:
Published: 3 Oct 2017
Recent News
What do you think?