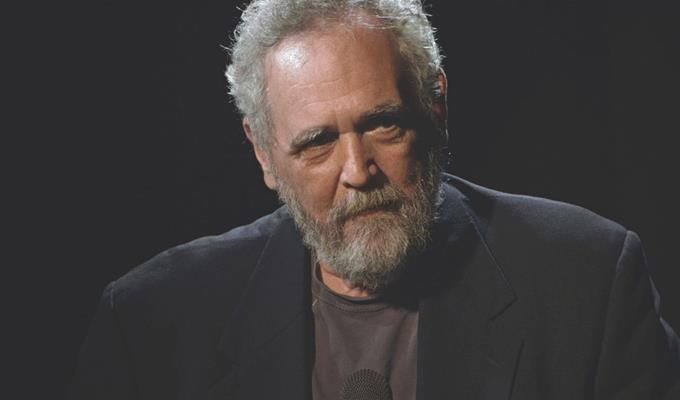 'Now it's our turn to support him'
He's a campaigning American comedian who has spent his life fighting for others. Now fellow stand-ups are to rally around Barry Crimmins, raising money for his wife's cancer treatment.
Helen Crimmins has ovarian and cervical cancer, and although she has health insurance, it does not cover all her costs under the American healthcare system.
She set up a crowdfunding campaign to raise $25,000 and said: 'I'm terrified of my diagnosis and I'm also terrified that I won't be able to cover my bills in order to pay what is necessary to fight this disease.'
Now British comics led by Robin Ince and Mark Thomas are putting on a charity gig to help pay the bills – with Crimmins saying he and his wife were 'overwhelmed by this kindness'.
'We decided we should put on a benefit to try to make sure that Barry doesn't have to keep leaving Helen to go on the road to pay for her treatment when they should be together during this time,' Ince said.
He met Crimmins at the Latitude festival in Suffolk in July, just two days after the comic – who once fought a successful one-man campaign against online child pornography – learned that Helen's disease had taken a turn for the worse.
At the time the pair were engaged, and they tied the knot in Chicago in August, before Crimmins headed back to the UK to perform at the Edinburgh Fringe. Comedian Bobcat Goldthwait, who made a documentary about Crimmins entitled Call Me Lucky, was best man.
The fundraiser will take place on October 23 at the New Wimbledon Theatre, South London, and will also feature Billy Bragg, Charlotte Church, Josie Long, Grace Petrie, James Acaster, Hollie McNish, Chris Stokes and Alistair Barrie.
Bragg said: 'Barry Crimmins uses his humour as an activist artist should – to comfort the afflicted and afflict the comfortable. He's done loads of gigs supporting those in need. Now it's our turn to support him in his hour of need.'
And Stokes said: 'I used to joke that Barry Crimmins was better than Bill Hicks with the added bonus that he didn't die in 1994. We should all be thankful that he didn't because the work he has done, both as a comic and an activist, has been monumental.
'That he should now find himself in a situation where he cannot personally care for Helen so that he can afford to pay for her care is a cruel paradox borne out of a system which does not see the importance of free health care.'
Crimmins was seen as a godfather figure of the Boston comedy scene in the 1980s. He led a campaign against internet giant AOL, which had allowed child pornography to be shared over its servers, after revealing on stage that he had been abused as a child himself.
Money raised from the gig will also go to children's cancer charity CLIC Sargent. Tickets are available here.
Published: 2 Oct 2017
What do you think?