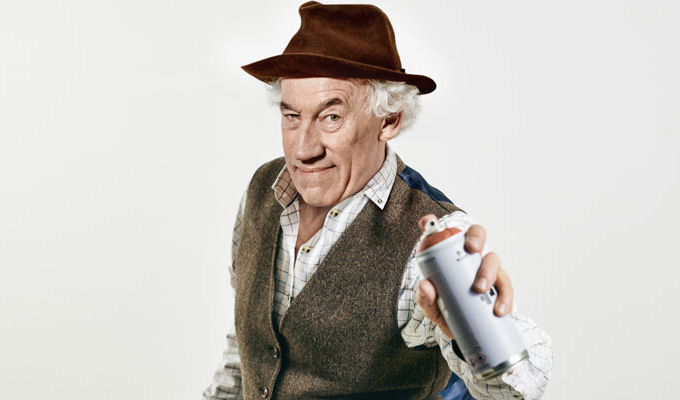 The Rebel gets a second series
Simon Callow is to make a second series of his sitcom The Rebel for UKTV Gold.
The broadcaster was commissioned another six half-hour episodes of the show, about an irascible hellraising Brighton pensioner called Henry Palmer.
Also returning are Bill Paterson as former hippie Charles, Anita Dobson as charity shop worker Margaret, Anna Crilly as Henry's put-upon daughter Cath, and Amit Shah as her husband Jeremy.
Callow said: 'I'm so pleased to be getting inside Henry Palmer's skin again: a man of certain age behaving very badly, casting off the chains of convention, uttering the unutterable and defying decency. Age has only sharpened his refusal to conform.
The first series of just three episodes, made by production company Retort, aired last summer. A total of 151,000 viewers tuned into the first episode on its first airing, well over the channel's 109,000 average for the same slot at the time.
The Rebel is written by Andrew Birch, and based on his own cartoon strip for The Oldie. He said: 'The one thing better than having a sitcom commissioned is being asked to write a second series. I hope the continuing adventures of Henry, his friends and long-suffering family in the mean streets of Brighton amuse you all, and provoke acts of rebellion throughout our fair land.'
Pete Thornton, UKTV senior commissioning editor, added: 'It was such a joy to watch Simon breathe (or should that be bellow?) life into Henry Palmer over three episodes last year - a joy that Gold viewers clearly shared in their numbers. It's a real pleasure to be working with him and the rest of the cast, Andrew Birch and the talented production team at Retort to create a full six-part series of senior misbehaviour this year.'
The new series will again be directed by Vadim Jean, whose credits include Henry IX, and Leon The Pig Farmer.
Published: 31 Jul 2017
Recent News
What do you think?