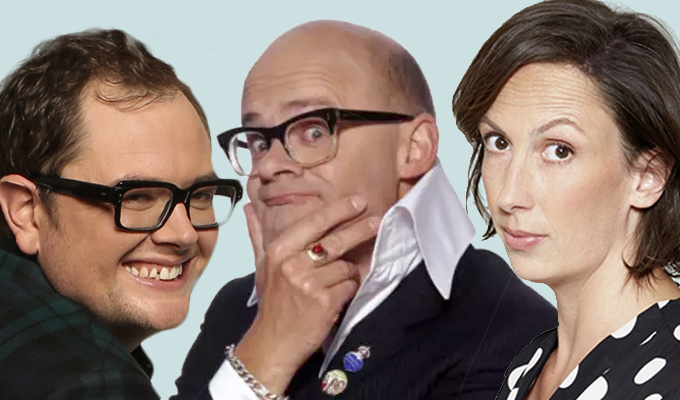 C4 plans new shows with Miranda Hart, Alan Carr and Harry Hill
Miranda Hart, Harry Hill and Alan Carr are to star in new entertainment shows for Channel 4.
Carr is fronting two new shows, including I Don't Like Mondays, which has been described as a 'Don't Forget Your Toothbrush-style gameshow'.
In the six hour-long episodes, likely to air on Sunday nights, contestants will play a series of games in a bid to win a year's salary.
Chris Fouracre, of programme-makers Alaska TV Chris Fouracre said: 'We've all had that dread of the alarm clock going off on Monday morning, signalling the start of another working week. Hopefully, I Don't Like Mondays will be a televisual antidote to that universal feeling and Alan is the perfect man to deliver it.'
Carr has also been signed up to front The Remote Controller, a Dragons' Den-style format devised by Harry Hill.
As Chortle reported earlier this year, the show will involve members of the public pitching their ideas for TV shows to a panel of experts, including Hill.
Channel 4 is piloting an hour-long episode – but it won't be broadcast.
Today's news comes on top of the earlier announcement that Carr will present a reboot of The Price Is Right. A one-off pilot has been commissioned for broadcast.
Details of Hart's project are sketchier, but Channel 4's entertainment boss Ed Havard, said it was 'pretty extraordinary' to be working with the comic on an hour-long pilot, which will be broadcast.
He said: 'I have wanted to work with Miranda for a very long time and I'm thrilled we are going to get the chance to do so..'
Hart – who is currently starring in Annie in the West End – piloted a reboot of The Generation Game for the BBC two years ago, but the show went no further, with the comic saying she wanted to focus on acting and writing.
Published: 22 Jun 2017
Recent News
What do you think?