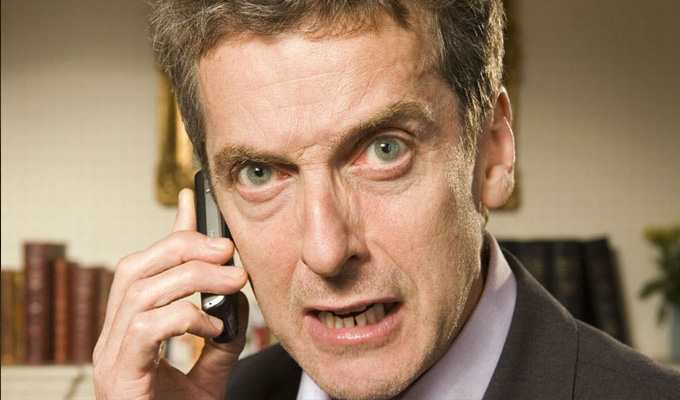 Revealed: The one line the BBC censored from The Thick Of It
The BBC allowed all manner of creative swearing and graphic insults to air during The Thick Of It.
But there was just one line in all of the scripts that made executives so nervous they insisted it be censored, creator Armando Iannucci has revealed.
The excised line, spoken by Peter Capaldi's fiercely foul-mouthed spin doctor Malcolm Tucker was: 'That's inevitable. It's as inevitable as what they'll find in Jimmy Savile's basement after he's dead.'
'The BBC lawyers said you can't say that,' Iannucci told an audience in Melbourne
Although Savile died in 2011, between seres three and four, the extent of his sexual abuse of children only began to emerge in September the following year, a month before the final episode aired.
In the 70-minute conversation with journalist Annabel Crabb, Iannucci also shared details of Alan Partridge's interview with Tony Blair at the 1997 Labour party conference in Blackpool, prior to his election as Prime Minister.
'The first time I met Tony Blair was when his campaign chairman said "Tony Blair would like to be interviewed by Alan Partridge. For a youth event!", he recalled, adding: 'All the words in that sentence sound terrible…'
'Steve Coogan and I thought, "Well, this doesn't come up that often, let's give it a go…" Steve and I wrote this ten-minute funny chat between Alan and Tony Blair.
'We arrived and Peter Mandelson, Tony Blair's campaign head, looked a bit puzzled and said to his assistant: "Where's Alan Partridge?" And his assistant had to explain to him that Alan Partridge was a fictional character – that was Steve Coogan who was then going to dress up as Alan Partridge.
'We wrote this very elaborate, intricate two-way sketch between Blair and Partridge … we didn't want [Blair] improvising, God.
'But here's the thing, with ten minutes to go, he only just turned up. And we thought, "My God, he's only got ten minutes to look at this and then go out and do it." It all relies on perfect timing, getting the words exactly right. The thing is, he went out and did it absolutely word-perfect.
'And that's when I thought, "There's something wrong with him." He's either an actor or a robot or perhaps both because I don't like the fact that he can do that.'
Iannucci also discussed his stint as showrunner on the first four seasons of the US political comedy Veep and making his forthcoming film, The Death of Stalin.
'In America, the showrunner's treated like some kind of deity,' he explained. 'I could have people killed if I wanted to. And I'm very suspicious of that because that is a recipe for going insane. It happens when you're a director, especially a director on a film. You suddenly realise that you could turn into a monster.'
'I remember there was a point in filming Stalin where there was a crowd and the next shot, some of them had to be dead. So I was going through the crowd, choosing who to kill. So I was kind of going "You, just die. Dead. Dead. Could you be sort of writhing about? Half-dead? All of you – dead. On the floor now!"'
Despite Iannucci's long and successful career, there's someone who can still put him in his place. Citing a talk he gave at the Scottish Parliament during the Festival of Politics, he recalled his 90-year-old mother's reaction.
'My wife was sitting next to her and my mum said to my wife, "Ooh, it's a very big room, do you think you'll fill it?' And the guy from the parliament said: "Oh Mrs Iannucci, we could have sold this three times over."
'And without missing a beat, my mum said: "People are paying?"'
The 'in conversation with' event took place last week, and can now be heard online here, or watched below.
- by Jay Richardson
Published: 12 May 2017
What do you think?