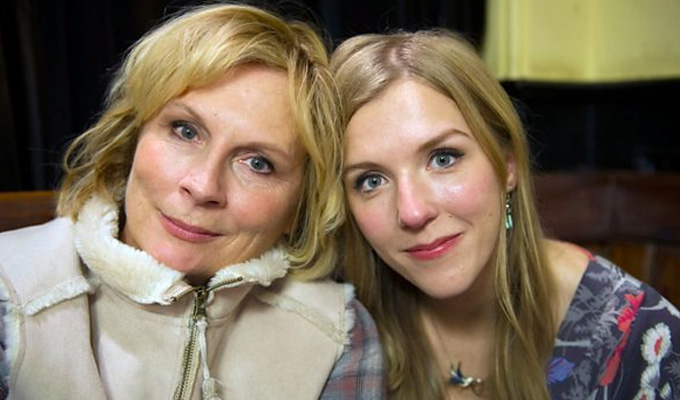 Now this is a real family movie...
Jennifer Saunders and her daughter Beattie Edmondson are to star in a family film together.
Pre-production is underway on Patrick, in which Edmonson plays Sarah, a young woman whose messy life is thrown deeper into chaos when she inherits a spoilt pug from her grandmother.
Details of Saunders's role is still under wraps, though Chortle understands that she will not play Sarah's mother.
Phoneshop's Tom Bennett, recently seen in David Brent: Life on the Road, is also rumoured to be co-starring, although again his role has not been revealed.
Patrick has been written by Emma Watson's publicist Vanessa Davies, based on her own experiences, along with Absolutely Fabulous director Mandie Fletcher – who will also helm this film – and Paul De Vos.
This film – to be distributed by Disney's Buena Vista in the UK – won't be the first time that Edmondson, who performs live as part of sketch trio Birthday Girls, has worked with her mother.
Saunders guest-starred in the BBC Three sitcom Josh as the mother of Edmondson's character Kate. And Edmondson, whose father is Bottom star Ade, appeared in the Ab Fab movie as an assistant to Edina's rival publicist Claudia Bing, played by Celia Imrie.
Speaking ahead of Saunders appearance in Josh, Edmonson told the Daily Mail: 'It was weird as I've never done anything with her before so I got nervous at the idea of her seeing me working. I think anyone would feel the same having their mum watch them work. But we had a lot of fun and my mum had some great ideas too.
'I actually didn't think she'd do it so I texted her and asked her if she could think of someone. She texted back saying "I'll do it", which is what everyone was hoping for and tiptoeing round.'
The Ab Fab movie took more than £37million worldwide, of which around £17million was from the UK.
- by Jay Richardson
Published: 16 Mar 2017
Recent News
What do you think?