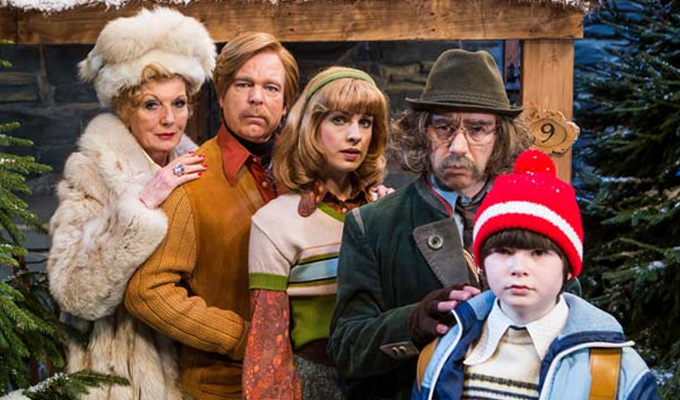 Air date confirmed for the new Inside No 9
The new Inside No 9 will air on December 27, the BBC has announced.
Steve Pemberton and Reece Shearsmith's latest episode is based on the Alpine Christmas folk stories of the Krampus.
Described as 'half-goat, half-demon', the legedary beast punishes children who have misbehaved, in contrast with Saint Nicholas, who rewards the well-behaved.
The episode is set on Krampusnacht, December 5, in 1977. Julian Devonshire (Steve Pemberton), his pregnant wife Kathy (Jessica Raine), their son Toby (George Bedford) and mother-in-law Celia (Rula Lenska) arrive at an chalet in the Austrian alps for a family holiday.
They are shown around by Klaus (Reece Shearsmith) who tells the family about the local legend of The Devil of Christmas.
BBC Two has confirmed that the episode will air at 10pm on Tuesday December 27.
Other comedy shows on the BBC this Christmas include:
• Michael McIntyre's Big Christmas Show, at 7.25pm on Christmas Eve, which includes guest appearances from Catherine Tate's Nan and Harry Enfield as Kevin the teenager.
• Mrs Boys Christmas special, entitled Mammy's Forest, which will air on BBC One at 10.30pm on Christmas Day.
• An extended Walliams And Friend, in which David Walliams is joined by Downtown Abbey and W1A star Hugh Bonneville, which goes out at 10pm on December 27 on BBC One. It is the last in the current six-part series and features the regular support cast that includes Morgana Robinson, Mike Wozniak and Jason Lewis.
• A new episode of Jonathan Creek, about a macabre film director who lives in a home with a rich history of supernatural occurrences, which airs at 9.30pm on December 28. Warwick Davis is among the guest stars, as a local reverend.
Published: 30 Nov 2016
What do you think?