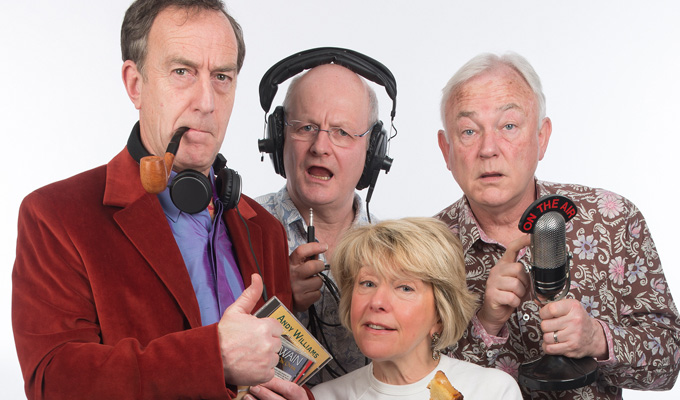 Radio Active to return to R4
Sketch show Radio Active is to return to Radio 4 after an almost 30-year absence.
Angus Deayton,  Michael Fenton Stevens, Helen Atkinson-Wood and Philip Pope will be returning to the spoof commercial radio station for a one-off special.
It will be recorded at the Edinburgh Fringe, where the team are reuniting from next week, Chortle can reveal.
The radio series grew out of a 1979 Edinburgh Fringe show presented by The Oxford Revue, and ran for seven series from 1980 to 1987.
Its cast also included Geoffrey Perkins, who co-wrote most of the scripts with Deayton. Perkins became a respected comedy producer, but died when he collapsed in the street in 2008, at the age of 55, because of a rare heart condition.
Characters in the show included fading star Mike Channel (Deayton), 'children's favourite' Uncle Mike Stand, accident-prone Nigel Pry (Pope), the 'carefully enunciated' Mike Hunt (Pope) and brusque owner Sir Norman Tonsil (Deayton).
Original Radio Active producer David Tyler, who now runs production house Pozzitive, has been drafted in to oversee the new programme, even though it's being produced by Graham Norton's So Television. 
'We did the originals in the 80s,' he told Chortle. 'That was a long time ago, when I was young and could carry around great heavy boxes full of quarter inch tape. These days, I can barely lift a memory stick…'
Radio 4 previously got the cast back together for a one-off in 2002, to mark the show's 21st anniversary.
The Edinburgh show, one performance of which will be taped for broadcast, will be on at the Pleasance at 4.20pm each day.
The team will also be appearing on Al Murray's Radio 2 show on August 13.
Published: 29 Jul 2016
What do you think?