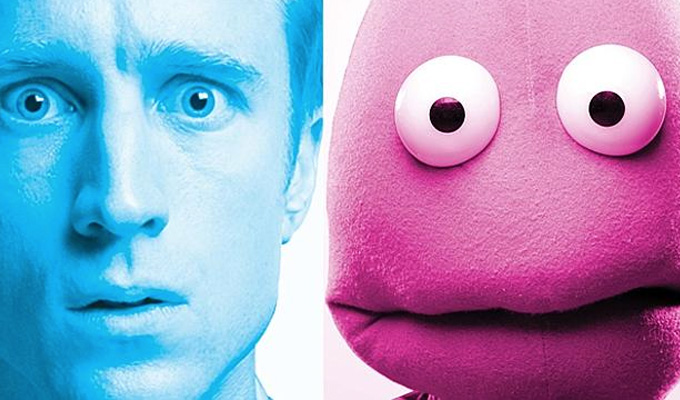 Foam home...
The best comedy on demand.
Sammy J & Randy in Ricketts Lane
Your standard flatshare premise…. Except for the fact that one of the roomies is a purple puppet whose hobbies are gambling, drinking and cheating on his wife - which is why he came to be living with a useless lawyer. Six months after it aired in Australia, Sammy J & Randy's sitcom is making its UK debut when it lands on Netflix tomorrow. This, Sammy tells us, is where the 'thousands of dollars lost in Edinburgh all those years in a row' pays off.

Dumb White Guy
Brendon Burns's podcast usually mixes recordings of his stand-up set with him asking, yes, 'dumb white guy' questions to people of different ethnicities. But occasionally he break the format for an interview… yes that stand-up podcasts staple. This week he's secured Stewart Lee for a fascinating discussion that takes in on-stage personas, whether it's possible to pander to the critics, and the ethics and practicalities of comedians mocking each other on stage and plenty more besides. Don't be put off by the 1hr 45minute running time – this is well worth a listen if you're interested in the nuts and bolts of comedy.

Sid James: Not Just A Dirty Laugh
Sid James died 40 years ago this week, and to mark that anniversary, Radio 4 Extra are rerunning this 2013 documentary in which Lee Mack presents archive and seldomly-heard family recordings of his work, while the likes of Bernard Cribbins, Lance Percival and Liz Fraser reveal their experiences of working with him. His daughter, the author Reina James, provides rare material from the family archives of her father's years in South Africa and lost sketches from Sid's shows from the BBC's written archive are brought to life by actor Christopher Fairbank. Listen here
Match Not Found
This British romantic comedy web series has just passed a million views on YouTube. It follows luckless-in-love Kat, played by Katie Sheridan, recording Skype conversations during her quest for the right man. Sheridan, from Berkshire, co wrote the series with friend Alex Oates said: 'A lot of people seem to have taken the show to their hearts. I think they tune in because the show is funny and warm, but also a lot of our viewers seem to really engage and identify with the characters.' The 21st weekly episode has just been released, but it all started here:

Published: 30 Apr 2016
What do you think?