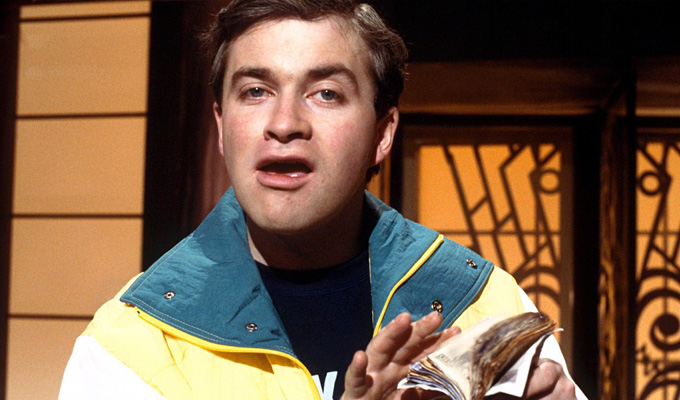 We lost out on Loadsamoney!
Paul Whitehouse and Charlie Higson lost out on sharing the fortune that Harry Enfield earned for Loadsamoney, despite co-creating the character.
The pair did not have a formal contract over the rights to the obnoxious Cockney plasterer so did not share the spoils – especially a lucrative deal to advertise Sekonda watches.
But Higson says there is no bad blood between himself and Enfield over the finances.
In a Q&A in the Sunday Telegraph's personal finance section today, he reveals: 'Loadsamoney was quite a prophetic character… Harry got wealth and fame while Paul and I got work out of it, which led to making proper money.
'If you add it all up, Loadsamoney was on screen for two or three minutes a week for 10 weeks, [on Channel 4's Saturday Live], adding up to half an hour screen time. We got paid a scriptwriter's fee for 30 minutes' material, which is not vast.
'Harry did an advert for Sekonda watches, which he made quite a lot of money from, but Paul and I didn't make a penny. We didn't know how the character would go down, so we had no official contract over who owned what, or any advertising deal for our part in creating a character.
'Since then, we obviously made sure that everything is properly covered.Harry did very well out of it.'
Higson said they did make money from a subsequent tour, and novelty record, which made No. 3 in the charts. But because it sampled the Abba hit Money, Money, Money, half the royalties went to the Swedish supergroup.
And asked whether the the earnings gap created any tension, he said: 'Not really, there was a certain feeling of it might be nice to have got a little more. But we were 30, it was fun… things were happening and the most valuable benefit was a career.'
Published: 31 Jan 2016
What do you think?